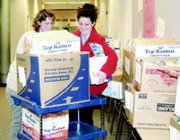 OUTLOOK - In keeping with tradition, Outlook Elementary School students conducted their annual food drive, collecting a whopping 3,245 food items to be given to local food banks.
But because of a fire at the school in mid-December, there are some changes in tradition this year.
In years past, on the day before Christmas break, the kids and staff dress in their pajamas. The classroom that collects the most food gets to select a teacher who will dye his or her hair.
All the kids then gather in the gym for an assembly, the teacher's hair gets dyed and the food is presented to local food bank representatives. This was all set to take place on Dec. 19.
Instead, staff members put all the food items in the hallway after the children returned from holiday break so they could see for themselves the fruits of their labor.
"We put the food in the hallway so the kids could see what they were able to accomplish," said Para-educator Heather Pickel, who spearheaded the project with fellow Para-educator Chantile Hutchinson.
Pickel said that conducting the food drive is hard work, even though they get a jump on it as early as November.
"Our goal this year was 3,000 food items," she said. "We ended up with 3,245."
Representatives from the Seventh Day Adventist, Sunnyside Ministry and St. Joseph's food banks picked the food up this past Tuesday.
"I really enjoy working out here and seeing the kids pull together," said Pickel. "I'm so glad we're all here and working for the community."
Tomorrow (Friday), there will be no dying of the hair and no assembly. But all staff and students are welcome to come to school in their pajamas.