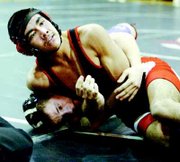 Victory came down to the final match for the Sunnyside wrestling team last night.
Trailing by one point, 34-33, heading into the 119-pound match between Sunnyside's Ricardo Rivera and Hanford's Michael Rorie, Rivera dominated the young Falcon, amassing a 15-1 lead before pinning him in 3:05, handing Sunnyside a 39-34 victory over Hanford.
"It came down to the end like we thought it would," Sunnyside Coach George Paulus said.
Sunnyside dominated the lower weights, winning seven of the first eight weight classes, from 103 pounds to 145 pounds.
The meet started with the 125-pound weight class. Sunnyside's J.T. Gonzalez pinned Albert Rodriguez in 2:47 to give the Grizzlies a 6-0 lead. He also upped his personal record to 19-2 on the season.
At 130 pounds, Eric Mejia improved his record to 13-4 by pinning Hanford's Sean Neal in 1:10.
Scott Casas cut Sunnyside's lead to 12-4 when he scored a major decision over Tomas Pena, 13-3.
"Casas is one of the better Hanford guys," Paulus said. "It was a good match by Pena. His goal was not to give up six (team) points."
Sunnyside's Baltazar Avalos (140 lbs.) then got a much needed victory over Mikey Ruane.
"It was pivotal," Paulus explained. "A great match. Baltazar was down 4-0 after the first round and led after the second round 6-4."
Avalos then rode Ruane for the entire third round to escape with the win and pad Sunnyside's lead to 15-4.
Danny Alvarez (145 lbs.) then pinned Hanford's Addison Payne in 1:26 to increase Sunnyside's lead to 21-4.
"It was a great performance," Paulus said of the Alvarez match. "It was one we had to have."
At 152-pounds, Sunnyside's Zeke Galvan lost to Asa Clements 10-4 after being tied at four-all after two rounds.
"I thought we were going to get this one," Paulus said.
This is where the Falcons started to make a run at it, dominating Sunnyside in the higher weights like the Grizzlies did to the Falcons in the lower weights.
Jon Georges (160 lbs.) pinned Sunnyside's Emmanuel Ramos in 3:51. Georges' pin started a frenzy with the Falcons, who reeled off another three pins in a row.
Tyler Stoker (171 lbs.) pinned Juan Galindo, Jeff Ruane (189 lbs.) pinned Danny Almeida and Logan Roehm (215 lbs.) pinned Jose Barajas in 16 seconds, which gave Hanford a 31-21 lead with four matches to go.
At 285 pounds, Hanford's Ben Gaston beat Angelo Salazar 2-0 in a key match.
"It was a good performance by Angelo," Paulus said.
Salazar almost was pinned a couple of times but managed to fight his way out of it.
The win gave Hanford a 34-21 lead, but Sunnyside's Steven Romero (103 lbs.) pinned Zack Ellis in 1:31 for six points to start the come-from-behind rally.
A forfeit by the Falcons at 112 pounds cut the Hanford lead to one point, 34-33, setting up Rivera's pin to give the Grizzlies the team victory.
Sunnyside (2-1, 4-3) will travel today (Friday) to Hoquiam for a two-day tournament featuring 16 teams.
Corey Russell/Daily Sun News
Sunnyside's Ricardo Rivera gently puts Michael Rorie on his back enroute to a pin in his 119-lb. match. Rivera's win lifted the Grizzlies over the Falcons.