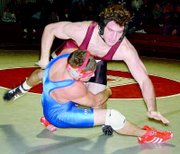 GRANDVIEW - With 30 points in hand due to five Prosser forfeits, the Grandview wrestling team won its second match in a row, 45-29 over the Mustangs last night.
"They're having a down year numbers-wise," Grandview Coach Jeff Sevigny said of Prosser, which last year was a 3A school. "Every program goes through that at some point."
In head-to-head competition, the Greyhounds were led by Joe Rodriguez at 275 lbs., who pinned Prosser's Josh Castilleja.
In other early match action Grandview's Jacob Robillard (171) decisioned Tyler Leighty 13-2.
Those two victories, plus four early Prosser forfeits vaulted Grandview into a huge 34-8 lead over the Mustangs.
Though the match was well in hand, especially with six more forfeit points to come for Grandview, Prosser still made things interesting with four consecutive victories to make it a 34-29 contest.
The Mustangs got an upset win during that stretch, as Prosser's Zach Hulse pinned Dalton Walker in just 47 seconds during the 135-lb. match.
"Dalton went for the takedown, and got out of position," Sevigny said. "He was up 2-0 and in control but the kid caught him."
That turn of events is something that Sevigny said his wrestlers will discuss at the next practice. "We don't want to take away their aggressiveness, but this is something we need to be more aware of," he said.
Following the four losses, Grandview righted the ship with Fernando Godinez's 16-1 technical fall over Prosser's David Huizar in the 145-lb. match. The CWAC South tilt then wrapped up with a Prosser forfeit in the 152-lb. match.
Last night's win evened Grandview's league record at 3-3 heading into this weekend's Foss Invitational in Tacoma.
A total of 16 teams-mostly from 3A and 4A schools-will compete at the invite.
"It is our last tourney of the year and we'll use this to get focused for the postseason," Sevigny said of his wrestlers, who will have just three dual meets left after this weekend.John Fannin/Daily Sun News
Grandview's Jacob Robillard (top) escapes from Prosser's Tyler Leighty. Robillard went on to a 13-2 victory in the Greyhound wrestling team's dual meet win over the Mustangs last night.