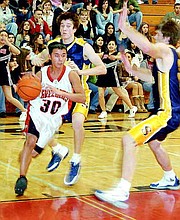 Sunnyside's Nathan Cornelius is all of 5-8 and 150 pounds.
But Friday night he played the biggest game of his life with 24 points and eight rebounds in sparking the Grizzlies to a 69-60 upset win over Southridge.
The visiting Suns came into the contest ranked in the top 10 among 3A boys hoops teams in the state. Southridge was undefeated in league play and its only loss on the season was at 4A Walla Walla, and that by just five points.
That all changed Friday as Sunnyside, which entered the game with one league win and two overall, gave the Suns all they could handle.
The Grizzlies trailed just 19-18 after one quarter and were within six at the half, 40-34.
Coach Steve Urrutia said Sunnyside was right where it wanted to be against the touted Suns after one half.
If that's the case, then the second half was pure Nirvana for the Sunnyside boys as they outscored Southridge 35-20.
Urrutia attributed the turnaround and the win to teamwork on the court and off, as his assistant coaches scouted the Suns and drew up a specific defensive game plan to slow them down.
"Defensively our kids played as perfect as they could have," Urrutia observed. "We were overmatched in strength and size, but we did a good job of helping each other on defense."
Urrutia was also successful in changing up the game's tempo in the second half, speeding up the game and wearing down Southridge.
"We're trying to pick and choose when we run," Urrutia explained. "We're trying to run a little more in the second half and it paid off Friday night."
The coach praised not only Cornelius' play, shooting 7-of-10 from behind the arc in what was a breakout game for him, but the whole Sunnyside squad.
Urrutia noted the only imperfection on Friday was a 5-of-14 free throw shooting performance. The Grizzlies and Suns were tied at 50-50 after three quarters before Sunnyside gained a six or seven point edge and kept the advantage from there.
But Sunnyside could have easily won by double figures with better free throw shooting, Urrutia said. "That's something we'll be visiting this weekend," he said of shooting from the charity stripe.
Sunnyside's Jessie Montelongo and James Baysinger tallied 15 and 10 points, respectively, to help the Grizzly cause. Montelongo also added seven assists, while Baysinger collected four rebounds, four steals and two assists.
D.J. Palomarez and Gibby Briones chipped in eight and six points, respectively, for Sunnyside.
The Grizzlies couldn't keep the momentum going on Saturday in a 52-32 non-league loss at 4A Walla Walla.
Sunnyside made things interesting from the outset, down 10-5 after the first quarter and 21-15 at the half.
But Walla Walla's size advantage began to take its toll in the second half, as the home team pushed the advantage to double digits, 36-26, heading into the fourth quarter.
Walla Walla then removed all doubt by closing out the contest with a 16-6 run.
Ryan Engel led a balanced Sunnyside attack with six points, followed by Briones and Cornelius with five points each.
Urrutia was pleased with his team's effort in defeat, noting that if the Grizzlies had to lose a game last weekend it was better to lose Saturday's non-league tilt.
"We won the game we needed to win," Urrutia said of Friday's big win over Southridge. "The guys know now that we can compete, it doesn't matter who we play from here on out."
The weekend split evened Sunnyside's league record at 2-2 and 3-9 overall. The Grizzlies return home this Friday, Jan. 19, for a league tilt with Kamiakin.