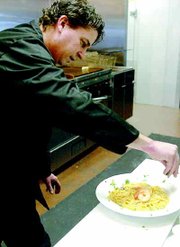 Bon Vino's Bistro and Bakery unleashed itself onto the Sunnyside public Dec. 18 and it's been non-stop ever since.
"It's going really well," Roger Hazzard, one of the two owners of Bon Vino's, said of the restaurant's start. "We've been extremely busy."
Bon Vino's is open for breakfast and lunch, Monday through Saturday, from 6 a.m. to 4 p.m. Hazzard and his partner, Joreen Mensonides, offer a menu with a Tuscany flavor.
Breakfast is served from 6 a.m. to 11 a.m. and all the traditional American favorites are there. Biscuits and gravy, steak and eggs and pancakes are available, along with breakfast croissants and omelets. The owners said the croissants are big sellers during the breakfast rush.
At 11 a.m. the lunch menu is offered and Hazzard, along with Bon Vino's other chef, are busy putting out homemade soups, salads, sandwiches, pasta and Paninies.
A Panini is a sandwich made from a small loaf of bread and then grilled. Hazzard said the ham and Gouda Panini is a big hit. Most of the Paninies come on Ciabatta bread but others can come on Rye or Kalamata Olive bread.
Hazzard said his BLTs, French Dips and Phillys are crowd favorites as well.
Mensonides has been baking her entire life and professionally for the last three years. She takes care of all the pastries and baked goods Bon Vino's offers.
"Our desserts are done with a European style, with lots of whip cream," she explained.
She would eventually like to add some Dutch items to the menu as well.
All pastries are made fresh and the food served is made to order with an emphasis on taste and an eye on presentation.
"We try to get all of our orders out in 15 minutes or less," Hazzard added.
All items on the menu are under $8. Hazzard and Mensonides are able to keep prices down by making their food from scratch and using small portions of a lot of different ingredients.
The restaurant has a seating capacity of 99 and the conference room can accommodate 48 people.
A catering service is available as well with birthdays, weddings and anniversaries attended to. The owners have plans to expand the menu to offer dinner but that will come later in the year.
Bon Vino's will be open Tuesday night, Feb. 13, and Wednesday night, Feb. 14, for Valentines, from 5-9 p.m. A special dinner menu will be offered by reservation only.