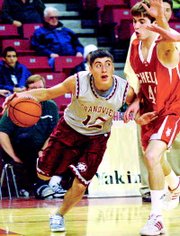 YAKIMA - Grandview's C.J. Lopez loves the SunDome hoops and they seem to love him right back.
How else to explain the junior's record setting three-point shooting mark at the dome yesterday-his second in less than a year-in leading Grandview's boys basketball team to a 68-42 thumping of Chelan in the fifth annual Tourneytown.com Classic.
Lopez set a tourneytown record with seven three-pointers yesterday to lead all scorers with 21 points. Last March Lopez also set a three-point mark at the SunDome during the State 2A basketball tourney.
Grandview Coach Scott Parrish agreed that Lopez and the dome's hoops seems to have a connection.
But he attributed Lopez's lights out shooting to more than a love affair.
"C.J. took good shots that came within the offense," said Parrish, who noted that a couple of Lopez's long distance bombs came from behind the CBA three-point line.
Grandview looked like it was going to take control early against the Goats, forging a 21-12 first quarter lead.
But Chelan's freshman point guard, Joe Harris, had other ideas as he burned the Greyhound offense with 14 first half points to trim Grandview's lead to 34-27 at intermission.
"I was pretty disappointed with our defense on the freshman point guard," Parrish said of the opening half.
Grandview's Frankie Medina took the coach's sentiments to heart, putting on a defensive clinic in the second half in holding Harris to just two points and coaxing four turnovers from the frosh point man.
"Frankie did a nice job of pressuring him," Parrish said of Medina's defensive stand.
A good defense feeds the offense and Grandview was no exception, blistering the nets with a 17-2 third quarter run.
The surge put the game away for Grandview, snapping a rare two-game losing streak.
Grandview's stellar third quarter not only resulted from stifling defense, but also discipline in running Parrish's offensive strategy.
Big man Nick Sears, for example, only scored four points, but Parrish praised his play in the paint in getting in position to receive inside passes, then kicking the ball out for open perimeter shots.
"He didn't score a lot of points but he did a good job," Parrish said of Sears, who dished out four assists in addition to collecting a game-high 11 rebounds.
A.J. Valencia scored 18 points for Grandview and teammate Adrian Perez chipped in seven points to go with a game-high four steals. Marty Guillen had a game-high five assists for the Greyhounds.
Parrish expressed hope that yesterday's non-league win at the SunDome will get his players back on track for the second half of the league season.
"I hope they learned that offensively we need to move the ball better," Parrish observed. "When we do that good things tend to happen."
Grandview (6-2, 9-2) will look for more good things this Friday when it hosts Toppenish in a CWAC South contest.