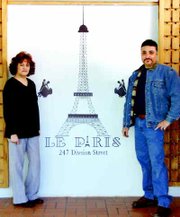 GRANDVIEW - When asked about the inspiration to open a new dance hall in Grandview, Becky Garcia cheerily responded "We thought it would be good for the community."
With more than 20 years of investing in rental properties within the Lower Valley, Martin and Becky Garcia have finally made a long-time dream come true. They are in the process of renovating an old church at 247 Division Street in Grandview. They are transforming the building, built in 1947, into a dance hall.
"This will open up avenues for community events, bazaars, the Chamber Auction, conferences, wedding receptions and so much more," Garcia stated. It is the hope of the Garcias that people and organizations in the Valley will find the centralized location to be a great place for large gatherings. She also said dance classes or aerobics classes could be held in the hall.
The Garcias noted that a lot of the teens in the community need somewhere to go, rather than having to travel to the Tri-Cities or Yakima. They feel their dance hall would be a wonderful location for teen dances.
Mrs. Garcia has lived in the Valley her entire life and her husband moved here from Mexico when he was 14. The couple have been working hard on realizing this dream. She is a manager for a check cashing business in Sunnyside and he has worked for Trailview Farms for 25 years. They have raised their two teenage children in Grandview and want to see the community thrive.
"We've had a lot of help from friends and family," Becky stated. She further said she didn't feel so much progress would have been made had it not been for the support they have received.
The dance hall features a kitchen, restroom facilities upstairs and downstairs and the all-important dance floor.
Mrs. Garcia added, "There will be someone available to decorate the hall for events, for interested parties." She said there will be a fee involved, but to ask when contacting her.
The Garcias are looking at rates for renting the facility being $900 plus a $300 deposit per day or $75 per hour plus $150 deposit.
Persons interested in renting the facility can contact the Garcias at 882-1393 or 391-5052.