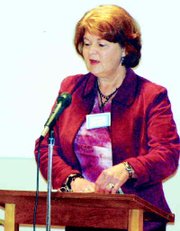 PROSSER - A world traveler, a semi-truck driver and mother of four daughters, Janice Van Biest of Quincy was the guest speaker this past Monday for the Lower Valley Christian Women's Club luncheon.
Van Biest shared her past experiences-which include a victorious battle with cancer and the loss of her mother to suicide-as well as hope for the future with the ladies in attendance for the luncheon.
Van Biest's speech coincided with the luncheon's theme of "Put on a new face".
She described her childhood growing up in a strict farming home with four siblings. The most troublesome part of her childhood, she said, was a difficult relationship with her mother.
"She never told me she loved me," Van Biest said. "But she did say that she hated me."
Van Biest married just a week after her high school graduation and moved on to life as a wife and, later, as a mother.
But Van Biest's mother continued to struggle and, as the family prepared to seek help for her depression, her mother committed suicide.
Van Biest said as a child she prayed that God would give her a mother/daughter relationship.
Though that didn't happen with her own mother, Van Biest thanked God that she has been able to have that relationship with not one, but four daughters.
"Be careful what you pray for," she laughed.
Looking forward in hope was also a key for Van Biest's relationship with grandchildren.
She said her and her husband's first grandchild was put up for adoption.
Van Biest said God has blessed her since then by providing 14 grandchildren. Further, through what she termed a series of miracles her family has made contact with the adoptive parents of that first grandchild.
She said she has been able to see the child grow and develop a grandparent/grandchild connection while getting to know the adoptive parents, whom she called an "extended family".
Van Biest said the ultimate hope for the future is through Jesus Christ and closed the luncheon by encouraging the ladies to draw closer in their relationship with Jesus.
John Fannin/Daily Sun News
Speaker Janice Van Biest of Quincy shares her experiences during the Lower Valley Women's Christian Club luncheon yesterday.
John Fannin/Daily Sun News
In keeping with the luncheon theme of "Putting on a new face," Linda Morgan enacts a humorous skit where she "puts on make-up", with help from the arms and hands of a hidden helper.