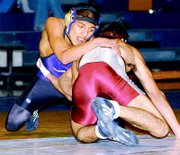 MABTON - The Mabton Vikings stayed on top in the SCAC West, using six forfeits to beat the visiting Highland Scotties 52-24 Tuesday night.
Those forfeits turned out to be the difference in the match as Mabton lost four of the seven matches the Vikings actually wrestled.
"It's tough to get fired up for a match when you basically have the match won," Mabton Coach John Kilian said of six forfeits. "It makes it a little different."
The meet started with the 103-lb. weight class. Mabton's Carlos Mendez picked up the win by forfeit, giving the Vikings a 6-0 lead.
Eric Meza didn't make weight for the Vikings at 112 lbs. and Kilian had junior varsity wrestler Juan Solis take his place. Solis was pinned by Highland's Heriberto Teresa in 2:50, tying the team score at six points apiece.
"Teresa is a good solid wrestler," Kilian said. "Our varsity would of had a tough time against him."
Mabton's Luis Aviles (119 lbs.) regained the lead for the Vikings when he pinned Eduardo Flores in 2:36.
Meza was moved up from 112 pounds to 125 pounds and received a forfeit, giving Mabton an 18-6 lead.
The Vikings then scored two more victories to put the match out of reach for the Scotties.
Andy Rivera (130 lbs.) pinned Highland's Samuel Sanchez in 4:49. Soon after Mabton's Andy Torres beat Joe Perez 16-7.
"Andy handled him pretty easily," Kilian said. "He was ahead 10-2 before Perez put him on his back and Torres nearly lost it. He got a little sloppy but it was still a good win."
The win gave Mabton a 28-6 lead.
In the 140-pound match, Mabton's Tony Vargas was pinned by Gary Erickson in 5:24.
"Tony's elbow is hurting him pretty bad," Kilian explained. "Erickson seemed to focus quite a bit on that. Tony's elbow was hurting him so bad I probably should have stopped it, but he wanted to go on."
Vargas was behind 9-7 when he was pinned, allowing Highland to cut the lead to 28-12.
Vicente Tovar (145 lbs.) received a forfeit, increasing Mabton's lead to 34-12. Neither team fielded a wrestler in the 152-pound weight class.
Highland's Kyle McLean (160 lbs.) added six team points to the Scotties' score when he demolished Angelo Salinas, pinning him in 54 seconds.
"McLean is a tough kid," Kilian admitted. "We knew we were in trouble there."
Mabton's Adrian Magana (171 lbs.) received a forfeit, increasing the Vikings' lead 40-18.
Damien Marquez (189 lbs.) lost to Highland's Ethan Bogle, getting pinned in 2:53.
"It was a close match," Kilian recalled. "Bogle was up 2-1 when Robert got careless and he got caught, losing the match."
That made the score 40-24 but that's all the Scotties could score as Mabton's Robert Marquez (215 lbs.) and Eli Perez (285 lbs.) each received forfeits in the last two matches.
Kilian wasn't too concerned with Tuesday's laxed effort but when he looked ahead to Mabton's Jan. 25 meet with Granger, he admitted there wouldn't be any room for error.
The Highland victory improved the Vikings' record to 4-0 in the SCAC West, 6-1 overall. Mabton will travel to White Swan Thursday, Jan. 18, for a 7 p.m. meet.