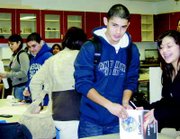 Global warming is an issue that has been widely talked about in the scientific community and on news reports. One local teacher felt it was an issue his students should explore.
Spencer Martin's ninth grade integrated science class at Sunnyside High School recently was given an assignment to write a report on global warming.
When asked how the students gathered their data, "We used the internet," several students commented.
One student said El Niño was something he did not know about and he wanted to know more about it.
Jasmine Sanchez said she "found out that long showers help contribute to global warming because of the amount of water heated," when asked what she learned while researching for the report.
Martin had to coax his students to speak up in regards to the knowledge gained through researching global warming.
"I learned carbon dioxide affects global warming because it traps heat," said Jacob Arrevalo.
To Arrevalo's response, Martin asked the class how to remove carbon dioxide from the atmosphere. Students responded with "We grow plants which create oxygen and sugar."
Another student, Bernald Rodriguez, said he learned "Pollution is melting the polar ice caps in Antarctica," when he researched his report.
Ana Ortega learned something not widely known. She said she learned "Plate tectonics affect the regional climate by changing the location of regions." This affects global warming by altering global atmospheric circulation and generates more volcanic activity, among other causes, which contribute to the heating of the earth.
Martin said the challenge of having the students in his classes write the global warming report "was to have them write an article for informational purposes for someone else."
Group C - Veronica, Taylor, Servando
What is Global Warming?
Global warming is an increase in the temp. of the earth's atmosphere, especially in sustained increase sufficient cause climate change.
EFFECTS ON GLOBAL WARMING
The main predicted effect of global warming for the environment and for human life is an increasing global average temperature. From this flow a variety of resulting effects, namely, rising sea level, altered patterns of agriculture, increased extreme weather events, and the expansion of the range tropical diseases.
A protective climate changes include significant slowing of the ocean circulation that transports warm water on the North Atlantic. Another example is large reductions in the Greenland and west Antarctic ice sheets.
EFFECTS ON WEATHER
Increasing temperature is likely to lead to increasing precipitation but the effects on storms are less clear. Extra tropical storms depend on the temperature, which is predicted to weaken in the northern hemisphere as the polar region warms more than the rest of the hemisphere.
EFFECTS ON WASHINGTON
Average local temperatures increased about 15 degrees Fahrenheit over the past 100 years and are expected to climb another one degree every 10 years during this century.
Diseases may increase as warm weather fosters the spread of viruses, parasites and bacteria.
Salmon and other marine life will face extinction as ocean temperatures rise, streams dry up and habitats change.
THE CAUSES OF GLOBAL WARMING
The greenhouse gases that cause global warming come from many sources, but the main source is the burning of fossil fuels.
Trees and other plants use carbon dioxide and give off oxygen. When trees are cut down for development, agriculture and other purposes, they not only can't use up the carbon dioxide in the air as they usually do, but they actually release it when they decay or are burned.
The United States is the world's largest source of greenhouse gases. The US has about four percent of the world's population, but contributes about 22 percent of the carbon emmissions.