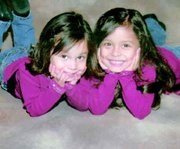 The March of Dimes is a nationally recognized organization whose affect on local communities is not often well known. But, you do not have to look far to find someone within the Lower Valley who has benefited from March of Dimes funding.
Cindy Garcia of Grandview has "felt the touch" of March of Dimes after the births of her two daughters, Natalie who is now four-years-old and Madeline who is now three-years-old.
Garcia developed toxemia during her two pregnancies. Her doctors did everything they could to keep her from delivering too early. However, both her girls were born at 32 weeks gestation.
"They prepared for the early C-sections by giving me hormone shots to help the girls' lungs develop," Garcia shared.
She added the doctors had her pump milk before the births. "It was so they could feed them the two cc's of milk every two hours after the births."
She said the babies were in Neonatal Intensive Care Unit (NICU) for a month and a half each. NICUs were spearheaded by March of Dimes in the 1970s.
Natalie had been weighing of three pounds and a half- ounce. Madeline weighed two pounds, 15 ounces at birth. "They had to weigh over four pounds before they could go home," Garcia said.
"Fortunately, my children were born healthy for being premature. I am the one who experienced the most complications due to my high blood pressure from the toxemia," she stated. "However, I do not believe either of my girls would be here if it weren't for the March of Dimes funding of NICU."
Garcia said she and her co-workers at Key Bank in Grandview participate in the March of Dimes Walk every year. "I usually display my girls' clothing and pictures from when they were born to help increase awareness," she said of the fundraising efforts for March of Dimes.
According to an email sent by Joan Moore of the March of Dimes office, located in Kennewick, Sunnyside Community Hospital received a $10,000 grant from March of Dimes in 2005. The grant was for a childbirth education outreach program. The program increased access to childbirth education for Hispanic and monolingual Spanish mothers. It also focuses on improving the quality of care provided to all Hispanic families served by the hospital.
The March of Dimes has helped with advanced research at University of Washington, Children's Hospital and Fred Hutchinson Cancer Research Center, "totaling nearly $5 million in the last two years," said the March of Dimes email.
The March of Dimes was instrumental in funding the development of the Salk vaccine. This vaccine is for Polio. More than 95 percent of all babies in the United States receive the vaccine.
In addition, the PKU test which babies receive during the routine newborn screenings after birth was funded by March of Dimes. The March of Dimes email said "This is an easily corrected disorder that can cause mental retardation if left undetected."
Babies born with immature lungs are also beneficiaries of March of Dimes funding. Surfactant Therapy was developed with research funded by March of Dimes.
Another contribution March of Dimes made to help babies is the grant they provided to use ultrasound in detecting and treating potentially fatal heart defects in unborn babies.
This month is Birth Defects Prevention Month. March of Dimes is the organization at the forefront of preventing birth defects. They have worked for over five decades to protect children from birth defects, premature birth and other serious health threats. You can help with funding by making donations to the March of Dimes at your local Key Bank Branch and various other organizations in the community.