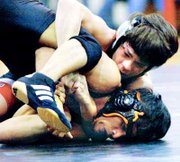 Sunnyside's Isaac Romero improved his season record to 26-0 while helping the Grizzlies post a 42-31 league win against the Kennewick Lions last night.
Romero pinned Steven Moreno (112 lbs.) in 58 seconds to give Sunnyside a 9-0 lead after the second match of the night. The win also gave Romero 139 team points this year, six shy of the team record of 145 points, set by Carlos Garcia in 1996.
"He should break the record this weekend," Sunnyside Coach George Paulus said. "That's a pretty big accomplishment."
The meet started at the 103-pound weight class with Steven Romero beating Kennewick's Aung Sithu 7-4. The younger and lighter Romero improved his season record to 23-4 with the win.
Sunnyside received an easy six points in the 119-pound weight class. The Lions had to forfeit their match to Ricardo Rivera.
J.T. Gonzalez (125 lbs.) had an easy time with Kennewick's Giovanni Torres. Gonzalez improved his season record to 24-3 after he pinned Torres in 2:56. Gonzalez was ahead 7-0 at the time of the pin.
With the Grizzlies up 21-0, Kennewick finally got on the scoreboard when Jason Whitehead (130 lbs.) beat Sunnyside's Eric Mejia 5-2.
"Eric just couldn't get anything going," Paulus said.
In the 135-pound weight class Sunnyside's Tomas Pena gave the Grizzlies a boost when he pinned Pedro Mendoza in 5:20.
"Tomas had a big match for us," Paulus said. "The score was tied at eight when Tomas took him down, threw him in a head and arm, and then pinned him."
It was at this time, with the Grizzlies up 27-3, that things started to go a little funky, according to Paulus.
The Lions were able to run off three pins and score a major decision in the next four matches.
Kennewick's Chris Blackketter pinned Baltazar Avalos (140 lbs.) in 3:49. In the 145-pound weight class, Kennewick's Garrett Woods pinned Danny Alvarez in 3:25.
"Danny was leading 2-1 when Garrett escaped, tying it at two," Paulus recalled. "Garrett then took Danny down and got the pin."
Kennewick's Alex Prewett (152 lbs.) built up a 12-0 lead against Roberto Ramos before pinning him in 3:06.
Saul Soto then scored a major decision against Sunnyside's Jesus Mendoza, 14-2, to cut the Grizzlies lead to two points, 27-25.
That's when Andrew Swinehart (171 lbs.), wrestling in his first varsity match, stepped up and pinned Kennewick's Donovan McIntosh in 47 seconds.
"It was his first time on varsity and he pinned the kid in a critical time," said Paulus.
The win stopped the Lions' momentum and stretched Sunnyside's lead to 33-26.
Kennewick got some of that back in the next match when Ricky Carrillo (189 lbs.) pinned Sunnyside's Danny Almeida in 1:42 to pull the Lions to within two points, 33-31, with two matches to go.
Jose Barajas had a solid match against the Lion's David Smith (215 lbs.), beating him 8-5 and padding Sunnyside's lead to five points.
Then, Angelo Salazar (285 lbs.) improved his record to 14-7 on the year by pinning Kennewick's Josh Garvin in 2:46 and giving Sunnyside the 42-31 win. Salazar was leading 8-0 at the time of the pin.
"For having a couple of guys missing I thought we did alright," Paulus said.
The win improved Sunnyside's league record to 3-1 and 5-3 overall. The Grizzlies will host a double-dual match Saturday, Jan. 20. Sunnyside will wrestle against Eisenhower at 10 a.m. and then against East Valley starting at 1:30 p.m.