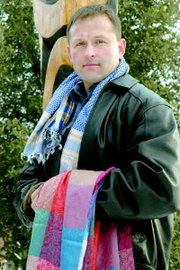 GRANDVIEW - After hearing Dr. Ken Zontek speak about his experiences in Afghanistan, during a lecture series held in Yakima, the Yakima Valley Community College Grandview campus student council asked him to speak to members of the Lower Valley community.
He will be speaking at the Grandview Senior Center, located on West Second Street (behind the post office), at 6 p.m. on Tuesday, Jan. 30.
"Not only is he an educator, father, friend and veteran, but he has helped radically change the lives of a group of women in Kabul, Afghanistan," say student council members.
Dr. Zontek was teaching his first quarter at YVCC in 2004 when he learned he would be deployed. He is a captain with the Washington National Guard and was deployed in April 2005. His tour in Afghanistan lasted 15 months.
His unit acted as a United States liaison to NATO. During his tour, he felt a need to work as a humanitarian. Dr. Zontek volunteered with a British civil group and found an organization called Khana-E-Aman, or "House of Refuge."
Young women go to the House of Refuge to escape severe oppression. They are given opportunities to receive an education or skills in trade.
Dr. Zontek often brought packages and supplies to the shelter in the middle of the night in order to keep attention away from it. He found himself with the opportunity to participate in the women's lives when delivering the supplies, and he often helped bring other women to the shelter.
"They are the oppressed of the oppressed," he said.
He said "the world has largely forgotten the women and liberty is slow in reaching them."
Dr. Zontek is now home and teaching at YVCC. However, the women at House of Refuge remain on his mind and in his heart.
He desires to help bring several of the women to Yakima so they might receive an education at YVCC.
In the process of raising funds to help the women of House of Refuge, he is collecting supplies, raising money and selling hand woven scarves. All proceeds benefit the House of Refuge.
Dr. Zontek joined the military at the age of 28. He had a Bachelor's degree and a Master's degree already in hand. He said his reason for joining the military was he felt a responsibility to contribute after reading about and learning about the sacrifices of others in history.
The tour in Afghanistan was his third and final tour.