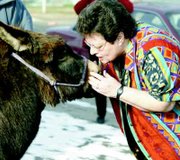 Karen Helsel, the pastor at Sunnyside's Church of God, was the lucky winner Sunday in a contest to see who got to kiss a donkey.
Helsel, seniors associate Walter Brayten and youth pastor Bob Christenson all competed for the prize to help raise money for the Sunnyside Church of God's youth group, which bills itself as the "Way Out Youth Club."
The money will help pay for the youth club's trip to the annual Pacific Northwest Association of the Church of God winter camp in Easton. The camp is for youth in grades 9-12.
"They will get to go tubing, sledding and do things in the town of Leavenworth," Helsel said. "There will also be special speakers and lots of music."
This wasn't the first time Helsel has been involved in something like this. She said she participated in a 'kiss the cow' contest at another church back east. That event was successful so she brought the idea up here.
All three pastors set out a container with their picture on it before every Sunday service. They started collecting around five weeks ago. People would donate money into the container of the person they most wanted to see kiss a donkey.
Helsel said the general consensus was since it was her idea, she should be the one who kissed the donkey.
Her premonitions came true yesterday when the money was counted at 10 a.m.
"I kind of knew," she said. "There were a lot of catcalls throughout the congregation. It was fun. We have a good time in the church."
A member of the church, Sharon Jones, was kind enough to donate a donkey to be kissed. The lucky guy was named Black Jack. He was transported to the church by Dennis Faulk.
Helsel said Jones gave her some advice with the donkey.
"She told me if the donkey backs up to me, it won't kick but wants to be scratched," she recalled. "She also told me he was a 'well churched' donkey. He's been used for Christmas scenes all over the valley."
After the morning church service the congregation gathered outside to watch Helsel kiss Black Jack. It was over fairly quickly.
How was it to kiss a donkey?
"Hairy," was the reply that came to Helsel.
The Way Out Youth Club will be raising more money for youth activities next month. On Sunday, Feb. 11, the youth group will serve a dinner at 12:30 p.m., after church services. The menu is tentatively scheduled to be chicken alfredo with salad and a dessert. The club will be asking for donations.