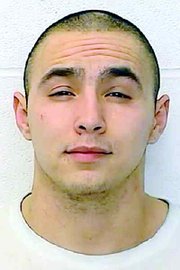 Shortly after 2:30 p.m. last Friday afternoon, Jan. 19, the Sunnyside Police Department was called to the scene of a drive-by shooting in the 1300 block of Jackson Avenue.
A 17-year-old male victim with a gunshot wound to his left thigh area reported a male identified as Adrian Ozuna, 20, and his three passengers, two unknown males and one unidentified female, had shot the victim and the victim's home.
Ozuna, who is considered by Sunnyside police to be armed and dangerous, was reported to have left the scene in a late model maroon Chevrolet Malibu, heading south on South 13th Street toward Lincoln Avenue. No license plate was given.
A weapon has not been recovered and Ozuna is still at-large.
The victim was taken to Sunnyside Community Hospital where he was treated and released.
The Sunnyside Police Department considers the incident to be gang related.