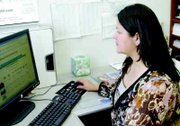 Gina Gamboa, a real estate agent with RE/MAX in Sunnyside, is one of the newest members of the board of the Yakima Valley Community Foundation (YVCF).
YVCF began operating in December 2004 as a nonprofit organization designed to attract, manage and distribute the income from charitable gifts to improve the quality of life for Yakima County residents.
The foundation's mission is to improve the economic, social, cultural, health and educational quality of life for residents of Yakima County, with special attention to unmet needs and to help donors achieve their philanthropic goals, according to the foundation's annual report.
Gamboa said she has been actively involved in real estate since 1997. She and her husband have been at RE/MAX since 1999, where they help people purchase homes. She got involved with YVCF through family friends.
She said she has worked with YVCF member Jane Villanueva on some projects involving the Diocese of Yakima, of which Villanueva is the chancellor. She was approached by John Colgan, YVCF president, and Villanueva asking if Gamboa would be interested in joining the directorship.
Since Gamboa is involved with the community doing different things with the Sunnyside Soroptismist Club, they thought she would be a good fit.
"I felt very privileged for them to ask me to be on their team," Gamboa said. "I couldn't say no."
She said she is hoping to create a fund through YVCF in her father-in-law's name.
"I hope to have one for Sunnyside students to go to college," she added.
Her responsibilities will be working with YVCF's grant committee.
"We help make recommendations as to what organizations will receive grants," she said.
Part of her job is visiting the sites of different agencies competing for the grants to help make the final decision.
"It's really exciting," she said. "There's a lot to take in."
YVCF gave $70,000 to area groups in 2006. Sunnyside Community Hospital received $37,000 from YVCF to help establish a rural outreach medical clinic to serve Mabton residents. The Northwest Communities Education Center in Granger received $20,000 to fund a digital conversion of technology for improved transmission by Radio KDNA, and Nuestra Casa in Sunnyside received $13,000 to support health education offerings and referral services for immigrant women in Sunnyside.
Gamboa is excited about her new position and thanked her husband for his support.
"Without the support of him I wouldn't be where I'm at now," she said.