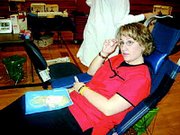 Helping out the American Red Cross, the Sunnyside High School Key Club held a blood drive last Friday in the auxiliary gym from 10 a.m. to 3 p.m.
"We've done it in the past but not for a couple of years," said Ryan Maxwell, assistant high school principal and co-advisor to the Key Club at Sunnyside High School. "It takes quite a bit of setting up on our part. We haven't had the time until this year."
About 15 Key Club members participated in the project, spearheaded by Key Club President Jacob Brandvold.
"It's part of the community service the Key Club does," Maxwell added.
Maxwell said the students started organizing for the event about a month ago.
He said they advertised for the event and signed people up to come and donate blood. They had to organize work schedules for the club members, buy food and drinks and set up the tables and chairs.
Members of the American Red Cross actually drew the blood from the volunteers.
For their efforts the Key Club was able to give the American Red Cross approximately 50 pints of blood, according to Maxwell.
"This was a big challenge for the kids to juggle their time during school," Maxwell said. "It's a big commitment on their part."
Maxwell said most of the students are taking AP classes and the work must be made up. They were able to take time away from their classes to do the blood drive and will spend extra time on their own to make up the work.
The Key Club has another project coming up. They will be doing singing telegrams for Valentines Day. People can pay $1 to have their significant other, or anybody for that matter, serenaded by a member of the Key Club.
"They did it for the first time last year and it was successful so we will do it again this year," Maxwell explained.
The money raised from this venture will go towards the Key Club convention in Portland April 7, 8 and 9.