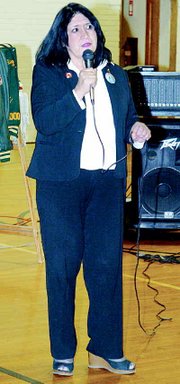 GRANDVIEW - Two women, devastated by violence in their past, spoke to Grandview residents last night about their stories and what the Grandview community needs to do to 'stop the violence.'
Grandview School Superintendent Kevin Chase thanked the audience for attending before introducing the night's first speaker, Dora Trevino.
"This is to help stop gangs and violence," he told the crowd gathered in the Compass High School gym. "It's a serious situation we find ourselves in when our children are afraid."
He told the crowd the only people that can really help are themselves, the parents.
He then introduced Trevino, who started out showing a computer presentation of pictures of her son, Auggie Trevino, growing up through the years. The show included pictures taken of him and his friends two days before he was shot to death by gang members.
"I did not ask to come before an audience to speak on behalf of my son," she said. "It was brought to my door step."
She was living in Quincy on June 2, 1999. She said it was just like any other day. She usually got a phone call from her son around 3:30 p.m. but the call she received that day wasn't from her son. Trevino's younger sister was calling to tell her Auggie had been shot.
"I felt like I was looking through a tunnel," she said.
Trevino said a 16-year-old gang member had made a decision on whether her son would live or not. Auggie was only three blocks from his house on his way home from school when it happened.
"He shot my son down in front of lots of kids coming home from school," she said. "My family weren't the only victims."
At the hospital in Seattle, Trevino said she was told her son was clinically dead and was asked if she wanted to take a lock of his hair. She said no, explaining that Auggie was particular about his hair. Instead, she asked for blue paint with which to take a hand print of him like the one he did when he was in kindergarten.
After that, he was taken off life support.
"I rocked him and rocked him until he went cold," she recalled.
It was then she promised herself and Auggie she would do everything she could to stop the violence.
"I will not give up," she told the audience. "I can not give up. That's why I'm here today. We need everyone of you. This is a community problem."
She then introduced the night's final speaker, Christian Pelayo, who told the story of her daughter being raped and murdered by gang members in 1997.
Living in Pasco, she said her daughter went to the worst middle school there, Stevens Middle School.
Her daughter was new and attracted the attention of several gang members who used to pick on her.
"The first time the school didn't do anything," she said. "The second time the school suspended them. The third time they sent my daughter to the hospital.
"It was me that did something. I went to the courts. I got a restraining order. I went before a judge asking to please protect my child."
It was too late. Her daughter Anna decided to run away and left for the Yakima Valley. She ended up living with a man who kept her in a room and abused her. When she was finally out of that situation and back with her mother, Anna was taken and killed. Those responsible are still free to this day.
'It's a parent's nightmare to see their child in a casket," she said. "What gave them the right to murder my child?"
Both women recommended getting involved with neighborhood watches and to get involved with the community and the police.
One woman in the audience complained how her middle school daughter is sometimes threatened by gang members but the police say they can't do anything.
"The middle school is really bad here," Pelayo told the audience. "We were told 80 percent of the students at the middle school are claiming gang colors."
Trevino told the Daily Sun News four students actually challenged her after she had spoken at the middle school.
She said she would like to see Barrios Unidos in Yakima set up shop in Grandview.
"They offer one-on-one time with problem students and training with kids," she said.
She would also like to see SAVE started in Grandview. SAVE stands for students against violence everywhere.
Trevino said it hurts her to relive the experience of June 2, 1999 over and over again but does it because of the four students who challenged her at the middle school in Grandview.
"It's my promise," she said.