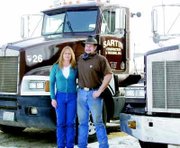 What was once mentioned in passing about four years ago has now become a reality: Pete and Ben Sartin have sold Sartin Construction and Trucking, Inc.
The Sartins sold the longtime local business to Jerry Wright and Carol Clayton-two longtime employees of the company.
A few years ago, says Pete, "I happened to mention that it was about time for me to think about retiring. Benny's in the insurance business and we just kind of started talking about it at that point."
Wright says that he was hopeful when Pete had mentioned it because, as he puts it, "I wasn't going to work for anybody else."
Wright, who's been working for the Sartins for 16 years, said that the first truck he bought was from Pete. Today, he says, "I live with the trucks."
There are six company owned trucks, and about 14 owner-operated trucks that contract through the company.
Wright, who's been at the company for close to six years, and Clayton are grateful for the long awaited opportunity.
"Pete and Ben gave us a really good opportunity. It shows a lot of faith in us," Wright said.
Ben Sartin echoes the same sentiment. "Have we made the right decision? Yes," he says. "I'm happy about it and I feel it's in good hands."
The company started back in the early 70's with a 1953 Kenmore truck that Ben himself drove.
Says Pete, Ben's father,"We built it together. Neither one of us was stronger than the other."
One of the triumphs for the trucking company, says Ben, "was building that company and showing a lot of folks that thought we couldn't do it that we could."
Ben said that at its peak, the company was running about 60 trucks a day. "Then the tail started wagging the dog," he said. Later, the family owned and operated company downsized.
When the company formed, young Ben was still in college. And when it started to grow, changes came quickly. "We went from one to three trucks in what seemed like overnight."
Ben, who worked as general manager for the company until he moved to State Farm Insurance two years ago, said that in its early years, when the company was growing, he was extremely reluctant to hire owner-operator drivers. "But I learned after experience working with owner-operated drivers that this was a good way to go."
Pete's motto is "No driver is better than a poor driver," and over the years, the company has dealt with driver crunches. Ben added that in the late 1990's, 10 percent of the fleet was sitting empty at the lot due to lack of drivers, which was a trend for trucking companies at the time.
Ben said that the driver crunch was impacted by three major factors: drug testing, CDL (commercial driver license) licensing and deregulation.
"Deregulation allowed a lot more people in the business, driving prices down and making it harder to find drivers," Ben said.
Back then, companies had to have authority to haul various products. "You had to apply and present your case to the panel, you had to prove there was a need and then you had to go through a question and answer session. It was quite extensive and quite expensive to gain authority," explained Ben. He added that if someone else applied for the authority to haul what another company was hauling, then that company had the right to protest.
"When they deregulated, that all went away. I had four pages of authority. All of the thousands of dollars spent maintaining and gaining authority over the years became worthless overnight," said Ben. "That was a low point for me. I worked myself pretty hard to keep and maintain that authority."
The CDL licensing system allowed for one driver's license good in all of the states in the nation. And Ben said, "The drug testing had an impact too. It's sad to say, but it did have an impact."
Ben said it was harder to leave for his insurance position than it is to sell the company. One thing that he doesn't miss at all, he says, is dealing with the Department of Labor and Industries. "At times they could be very, very difficult to work with."
As for the sale, the elder Sartin said,"It's hard to step away from something you built your whole life.
"The company was born and raised here, always been local. We also bought as much of our supplies as locally as we could.
"It was a good ride."
Adds Ben,"It (the company) was very, very good to us for a long time. But life has a way of changing and we just have a way of changing with it."
So is Pete truly going to retire? Says Ben, "Now he can play at it instead of it working him. He'll still have an advisor role...it's been his love his whole life."
And what are the new owners' plans? According to Wright and Clayton, the plan is to keep the 20 or so trucks running, just like they have been.