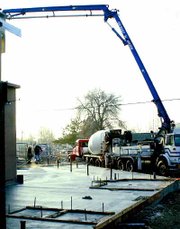 Mother Nature provided daytime temperatures this week warm enough to thaw the ground and bring some sunshine to the Lower Valley.
Mountain States Construction made the most of the moment by pouring a concrete floor yesterday for the Sunnyside Community Hospital expansion project.
Mountain States poured more than 70 tons of concrete for the floor, part of a $3 million project to expand the hospital's emergency department.
The pour was delayed about one week due to extreme cold, but the project is still scheduled for completion in late fall of this year, noted Tom Lathen, a hospital spokesperson.
Bill Flower is helping the Sunnyside Community Hospital Foundation raise money for the expansion and said once the cement is "cured" it will make way for door-framing and exterior walls. "Everything is dependent on getting this done," he said. "It's kind of a pivotal point in construction."
To date the foundation is two-thirds of the way to a goal of $3 million to pay for the emergency department remodeling.
The emergency department remodel is the last leg of a total upgrade of the hospital that began in 1996.
Sunnyside Community Hospital is a not-for-profit rural critical care access hospital, meaning that any potential profit must go back into the hospital for programs and equipment.