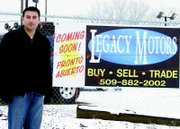 GRANDVIEW - After owning his own used car dealership in Kennewick, Gil Oliveras has partnered with his father to provide the Lower Valley with "more options."
Oliveras said he had quite a few Lower Valley customers buy used cars from him in Kennewick. He said he wanted to provide them a way to stay in the immediate area when looking for a used car.
"I saw minimal options in used car dealerships and felt the Valley needed one," he stated.
Seeing an opportunity, Oliveras asked his father to become co-owner of Legacy Motors at his now Stover Road location. "We have been really close and we wanted to work together since we have a good working relationship already," he said.
Oliveras asked the co-owner of his Kennewick dealership to buy him out in order to allow the focus necessary for the new endeavor.
He said it was not a difficult decision since he is from the Lower Valley and has always wanted to work closer to home.
The Stover Road dealership in Grandview was established several years ago by Budget Used Cars. The dealership was eventually sold to a Yakima businessman, who renamed it Auto World II. In turn, he sold the used car lot to Oliveras.
Oliveras is especially proud of the fact that Legacy Motors is "going to have a lot of financing options." He said many of the used car dealerships in the Lower Valley offer in-house financing, but his business will offer outside options such as bank financing.
"We want to give options to people who perhaps feel their credit is not 'good enough' to obtain financing for a nice vehicle," he explained.
The pricing is anticipated to be "very competitive" at Legacy Motors. The Oliveras' plan to keep overhead minimal in order to provide customers with the lowest possible pricing. "We will negotiate pricing to keep business in the Lower Valley," he said. "If they see a vehicle and they like it, we are willing to meet the price of other dealerships."
Though Legacy Motors has not yet officially opened, Oliveras said he has been busy already. He had customers arrive when the first vehicles appeared on the car lot.
Oliveras said Legacy Motors is scheduled for official opening on Feb. 1. "We are currently changing my dealership license and it takes longer than I anticipated," he said.
More like this story