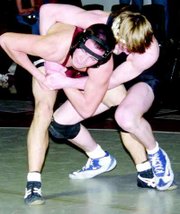 GRANDVIEW - The Grandview wrestling team needed all the points it could get last night in a 36-34 come-from-behind home win over Ephrata.
And the decisive digits came on a routine move the Greyhound grapplers work on everyday in practice.
Grandview trailed 34-27 heading into the final two matches, when Dalton Walker (140) and Yoni Causor (145) closed out the match with consecutive wins for the Greyhounds.
Grandview's hopes almost faded in Walker's match, as he trailed 5-0 to Ephrata's Tyson Hubbard.
"Dalton knew we needed a win and went out kind of careless," observed Grandview Coach Jeff Sevigny.
Walker righted things from there, though, scoring nine unanswered points for a 9-5 decision.
That pulled Grandview to within 34-30 heading into the final match with Causor taking on Ephrata's Chris Davidson.
The Greyhounds had narrowed the gap but still needed a pin or major decision to eke out the team victory.
That, too, did not look promising initially.
"Yoni was down 8-1 at the time he pinned the kid," Sevigny said of the victory, which came with just 17 seconds left in the second period. "Yoni got him in a front headlock and caught the kid off balance. It's a move we work on every day in practice."
The "every day" move capped a hard-fought win for Grandview, which was missing three regulars due to injury.
In other action last night, Grandview's Jacob Robillard pinned Jakob Torgeson in the 171-lb. match. Also recording pins for Grandview were Adrian Jasso (215) over Anthony Johnson, Joe Rodriguez (275) over Mike Beck and Efren Ramos (125) over Brandon Butcher.
Erik Dimas also provided the Greyhounds at 112 lbs. with a 6-2 decision over Mitchell Friend.
"Every match counts," Sevigny said of the close win, which followed an equally close loss at Ellensburg this past Friday. "You never give up because you never know what you can pull out in the end."
With the win, Grandview pulled even on the season in league competition at 4-4.
The Greyhounds close out the regular season this Thursday, Jan. 25, at Othello.
Grandview's JV wrestlers will be in action at home this Saturday for a District qualifier. The top six finishers in each weight class will fill out the District field.