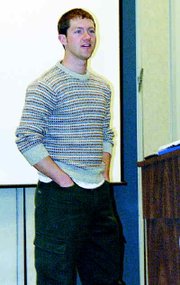 GRANDVIEW - A crowd of more than 30 people were present for the annual Relay for Life Kickoff Tuesday night at Grandview Middle School.
Attendees of the kickoff received folders for team sign-ups, t-shirt orders, information on cancer research and several items with which to display support for Relay for Life.
Mary Belkle, the committee chairperson for Lower Valley Relay for Life, opened the kickoff, announcing she is a cancer survivor. Belkle has participated and been a member of Relay for Life for several years. She told attendees she had never spoken to them about it before "because I had it easy compared to others."
She said she had been diagnosed with cancer several years ago and as a single mother of a now 6-year-old son, she had worried about what would become of him if she did not survive cancer.
Fortunately for Belkle, the cancerous cysts were "completely removed by surgery and I was okay after that. Every exam since, I have been okay," she said.
She expanded her statement, explaining, "I didn't suffer with chemo or anything that so many others have had to endure."
Belkle further illustrated her point in talking about her uncle who did not survive cancer last year. "He suffered."
She finished her introduction, telling those in attendance, "I am not here for me. I am here because of your story."
Door prizes were handed out throughout the hour and a half kick-off.
This year there is a theme chosen by committee members. The theme is Sowing the Seeds for a Cure. Belkle explained, "Growing the Relay, growing hope, growing a cure." She said the best campsite designed around the theme will receive a prize.
Sunnyside High School graduate Kyle Rattray is an advocate for the Relay for Life. Speaking to the crowd he said he attended MIT in Boston and worked for two years researching cancer to find a cure while there. After MIT, Rattray attended Harvard and worked one year on cancer research. "I want to thank you and let you know your money is going to a good cause," he said.
Rattray highlighted the fact that, due to Relay for Life and other such causes, "drugs like Gleevec have been developed." He said Gleevec is a Leukemia-fighting drug and before it, there was no such drug available for patients of the disease. It was developed in Oregon and approximately 40,000 people have been able to survive because of the drug.
"The death rate from cancer is down due to events such as Relay for Life," Rattray said.
Mother and daughter, Camille and Zoey Klingele of Prosser, gave their testimony to the audience. "Zoey was diagnosed with Leukemia at 18 months old," said Klingele, "I was diagnosed with breast cancer at 45."
The Klingeles stood together as the mother spoke of their bond, "We've taken the sharing to the extreme."
Mrs. Klingele emphasized the importance of empowering one's self with knowledge. She said having all the information available can help one to make healthy decisions.
"Stories like that can make us more compassionate and more driven," Belkle concluded.
This year's Relay for Life will be held Saturday, May 19, from noon until 9 a.m. on Sunday, May 20.
Anyone interested in participating in the Relay for Life fundraiser can contact Belkle at 643-1980 or Cheri Stoker at 509-783-1574 extension 17.