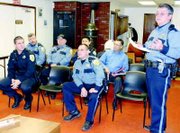 MABTON - In need of additional fire equipment but short on cash to fund the equipment itself, the city of Mabton entered into an agreement to jointly purchase and own a fire truck with Yakima County Fire District No. 5.
"It's a good deal for us," Mabton Fire Chief Luke Cussins told the city council Tuesday evening.
He explained each fire truck must go through and pass a series of tests annually. Because Yakima County will more than likely use the truck more, the county will pick up the tab for the annual testing.
Another benefit for the city of Mabton is the share of its costs for maintenance with the county.
"The Yakima County Fire District usually charges for the use of its mechanics," Cussins said.
Under the agreement, all maintenance performed on the new fire truck will be absorbed by the county with Mabton paying 50 percent for all parts.
The fire truck will be housed in Mabton and Cussins said it is almost ready and should arrive in Mabton this Thursday.
The city already paid $65,000 for the truck last year and will make additional payments totaling $35,979.69 in the next three years.
The council also approved a request by Cussins to purchase a new defibrillator for the fire truck. He told the council the state mandates each fire truck have one. The defibrillator will cost $1,326.50 and will be taken out of the EMS fund.
Also at Tuesday night's meeting, the council heard from Mabton Police Officer Ruben Bayona, who has been trying to tackle code enforcement for the city.
He told the council he is currently working on 12 cases, mostly rundown or abandoned houses. He said some need to be torn down.
Bayona told the council he has sent out letters telling the owners they must comply but very few have.
"We're lacking teeth," he said.
Once the owners have been notified they have a 15-day period to comply or face a $500 fine. Bayona told the council there isn't anything the city can do after that. He asked for direction from the council.
City Attorney Jack Maxwell told the council the city could file an abatement on the property in federal court but if the owners don't take care of the problem, the city will have to. He added it could become difficult for the city to be reimbursed. The city might have a lien on the property but if there is already a mortgage in place, that's where problems can arise.
Council member Mario Martinez suggested to Bayona to issue the fines and the council will look into what they can do to provide more teeth in its ordinances.