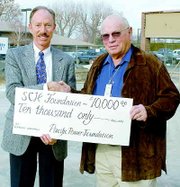 Pacific Power and Light donated $10,000 yesterday to Sunnyside Community Hospital for an ongoing emergency department expansion.
The funds were presented through the utility's charity fund by Clark Satre, PP&L's regional community manager.
Satre said the Pacific Power Foundation has over the past 19 years donated $40 million for various causes and charities.
"We like to help the communities we've been a part of for so long," Satre said before presenting the grant funds. Of the hospital expansion, he added, "When I saw the plans it just made sense."
Jon Smiley, the hospital's CEO, received the funds yesterday during a ceremony at the construction site.
"This puts us over the $400,000 mark we need to accept a challenge from the M.J. Murdock Foundation," Smiley said after receiving the check. With the $400,000 in hand, the hospital can now receive the $200,000 available through the two-to-one matching grant.
With $2.2 million collected to date, the hospital foundation is just over two-thirds of the way towards raising $3 million to pay for the remodel, which will nearly double the size of the emergency department.
When completed later this fall, the expansion will accommodate six urgent care examination rooms separated from the emergency examination area.
In addition, a decontamination area will be provided for cases related to infectious diseases, toxic/hazardous contamination or agricultural chemicals.