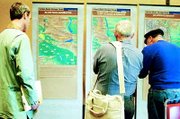 YAKIMA - The Bureau of Reclamation wanted comment on options for water storage and received plenty during a day-long open house and public comment, or scoping, meeting held yesterday in the Yakima Convention Center.
The sessions invited the public to review proposed options for water storage sites at Black Rock, about 30 minutes from Sunnyside, and Wymer Dam, just north of Yakima.
"We want to make sure everyone is heard and that there's not an issue out there that falls through the cracks," said John Redding, a public affairs specialist with the bureau.
Yesterday's meeting was a legal requirement in the bureau and the state department of Ecology's efforts to draw up a feasibility study of the reservoir proposals, as well as review potential ecological impacts.
Al Pines of Benton City, for example, asked about flood control for the Yakima River since both the Wymer and Black Rock proposals would divert water from the Columbia River rather than the Yakima. As a result, Pines was concerned that a higher-than-usual Yakima River flow could cause flooding in some lowland areas.
Others, like Reva Bunnell of Terrace Heights, wanted to know who would lose or benefit from Black Rock and if RV vehicles would be able to park on lands proposed for recreation around the reservoir.
Black Rock is the biggest and most publicized of the two options, and drew most of the public's attention.
Tom Carpenter, a board member of the Yakima Basin Storage Alliance, said his group's support of the Black Rock alternative represents a grassroots effort.
"We're as close to the people as you can get," he said. "We're building a base that represents a broad basis of interest in Black Rock."
With more than 100 people on hand for yesterday's afternoon meetings, there were also concerns expressed about Black Rock.
Some comments placed on posters around the room wondered about impacts to fish runs in the Columbia, since water would be withdrawn for the Black Rock and Wymer proposals.
One comment asked what would become of historical Yakima River water rights if users began to draw from a pooled resource of water from the Columbia.
Another wondered about the impacts to real estate values at Black Rock if water in the reservoir is drawn down to meet irrigation needs.
Still another pointed to the number of jobs, about 2,000, that Black Rock might generate.
Mary Taylor feels the Black Rock proposal is a personal matter for her and her family. She said land that has been in her family for the past 40 years sits near enough to the project that she wondered if condemnation proceedings would be conducted to force her to sell.
And she doesn't want to sell.
"I'm not interested in losing my house," said Taylor.
She also said she doesn't want to live in the proximity of water recreation or golfing, and contends that the storage alliance has not informed her of Black Rock meetings.
Another resident in the Black Rock area, Dan Martinez, said he has been kept up to date on meetings and has contacted Taylor and other nearby residents of activities related to the Black Rock proposal.
And he says he's looking forward to living near a recreation center.
"I don't know why we're wasting time studying it (Black Rock), let's get it done," Martinez said. "It will be better for the salmon, the irrigators and for the municipalities as well."
Yesterday's meeting, which included afternoon as well as evening sessions, was also an opportunity for the bureau to hear other options for water storage.
Kim McCartney, a storage study manager working out of the Bureau's Yakima office, said all suggestions are welcome.
"There could very well be some valuable ideas (for water storage) that we haven't thought of, so we want to hear from the public and see if there are some other feasible possibilities out there," McCartney said.
Ken Hammond is a retired CWU professor of geography and land studies who lives in rural Kittitas County. Hammond offered some options that he says are less expensive and labor-intensive than either Wymer or Black Rock.
In one option he noted the example of the Palo Verde Irrigation District in California, which leaves some farmland fallow in years of water shortage. Farmers are compensated during those years that portions of their lands are unused.
Hammond also feels that irrigation districts need to do a better job of piping and pressurizing their existing water supply.
All comments and options presented will be compiled by the bureau and released in about a month.
The deadline to submit comment or options regarding the water storage proposals is Jan. 31. Comments can be submitted to storagestudy@pn.usbr.gov, faxed to 509-454-5650 or mailed to 1917 March Road, Yakima, WA 98901.
McCartney said the bureau in late 2008 will submit to Congress a final environmental review and water storage recommendation.