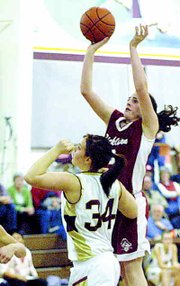 It was tough sledding for the Bickleton High School girls basketball team last night. Facing the state's No. 3 ranked class 1B team, Sunnyside Christian, the Lady Pirates dropped a 74-14 decision in the Lady Knights' home gym.
The one positive that may have come from Tuesday evening's game for Bickleton was the play of Katelynn Clinton. Only an eighth grader, Clinton ripped the nets by popping in 10 of her team's 14 points.
Sunnyside Christian, which got a combined 30 points from the duo of Tori Van Wingerden and Brittany den Hoed, surged to a 26-2 first quarter lead before putting the icing on the cake with an 18-4 burst in the second period. Bickleton failed to score in the third quarter, but did manage an eight-point barrage in the final period of play.
Tuesday's loss dropped Bickleton to 2-7 in league play, 4-8 overall. For Sunnyside Christian, its conference mark improved to 8-1, 13-2 overall.
Bickleton 2 4 0 8 -14
S'side Christian 26 18 15 15 -74
Bickleton: Clinton 10, M. McBride 0, Jensen 0, T. McBride 0, Macias 2, Pearson 0, Mercer 2, Jarvis 0, Goodnight 0, Molina 0.
S'side Christian: Bangs 2, E. den Hoed 0, Roberts 11, T. Van Wingerden 16, B. den Hoed 14, Bosma 8, J. Van Wingerden 0, M. Van Wingerden 6, Schutt 9, Newhouse 6, Long 2.