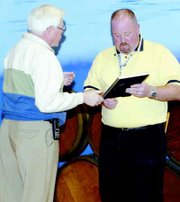 GRANDVIEW - The management of the Wal-Mart distribution center in Grandview believes in supporting troops overseas above and beyond what is expected.
That dedication to American servicemen came to light yesterday at a special award presentation.
Jim Sewell, a central area representative with the Employer Support of the Guard and Reserve (ESGR), presented Sean Arai, general manager of the Wal-Mart Distribution Center in Grandview, with a certificate recognizing the firm's commitment to its employees serving in the U.S. Army National Guard and the U.S. Reserves.
The ESGR is a volunteer organization under the U.S. Department of Defense with committees in every state.
"We're a support group for employers who have employees in the National Guard or Reserves," Sewell said.
The focus of ESGR is to:
• Promote an understanding of Guard and Reserve service.
• Enlist support of employers in development of human resource policies and practices that support and encourage employee participation in Guard and Reserve programs.
• Disseminate information to improve knowledge of, and voluntary compliance with, the Uniformed Services Employment and Reemployment Rights Act (USERRA) among Reserve component leaders, members and their employers.
• Sustain willingness of employers to support their employees called to military service for the Global War on Terrorism over potentially longer periods of time and greater frequency.
The ESGR has a five-star employer program that seeks to inform and educate employers about their rights and responsibilities towards their employees who serve in the National Guard and Reserve, and to also recognize and reward those employers who go over and above the requirements of the law.
A five-star employer does five things.
1. Sign a statement of support publicly demonstrating support for their employees who serve in the National Guard and Reserve.
2. Review their human resources policies to ensure compliance with the USERRA.
3. Promote training for managers and supervisors to effectively manage their employees who serve in the Guard and Reserve.
4. Adopt policies and programs that are 'above and beyond' what is required by the USERRA Law.
5. Serve as an advocate for employee service in the National Guard and Reserve and help promote the mission of ESGR.
"Wal-Mart has done an outstanding job supporting their employees who are in the National Guard and Reserves," Sewell said.
"I appreciate this," Arai said when presented with the five-star award.
The Grandview Wal-Mart distribution center has six employees in the National Guard and one employee currently stationed in Iraq.
Besides keeping positions open for National Guardsmen and Reservists, Wal-Mart also sends care packages to the troops. The company put together a rather large care package for its one employee who is serving in Iraq presently.
Wal-Mart goes above and beyond the requirements by offering equalization of pay. This means if a Wal-Mart employee in the National Guard or Reserves is deployed to a theater of war, the company will make up the difference in the employee's pay.
For example, if an employee makes $2,500 a month at Wal-Mart and only $1,500 a month while serving in the Guard or Reserves on active duty, Wal-Mart will chip in the other $1,000 so the employee won't suffer any monetary loss.
Why do they do this?
"It's the right thing to do," Arai said. "They've made a commitment to the company. This is a way for us to say thank you, you're not forgotten."