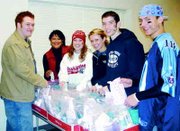 Care packages for the homeless were handed out while a homeless survey was taken today, Jan. 25.
The Sunnyside High School leadership class and marketing class students assisted the Northwest Community Action Center in assembling hygiene care packages for the homeless this past Tuesday, Jan. 23.
The 220 care packages assembled by local students contained items such as soap, toothpaste, toothbrushes, bandages and hand sanitizer. Garbage bags were also included in the packages.
The marketing class students included hand-made scarves in the approximately 50 packages they were able to assemble.
The project came about by way of Suzi Carpino's request to Dave Martinez, SHS leadership class teacher. Carpino is the Sunnyside School District Readiness to Learn caseworker and works with the Northwest Community Action Center. Her position as a caseworker often connects her with homeless families and she is able to see the helpful effects of the resources provided by Northwest Community Action Center.
Carpino felt the care package project would be a "good experience for the kids." She said homelessness is a subject not touched often in the Lower Yakima Valley.
"We try to incorporate the kids with community activities and projects," she said of the clubs she is involved with through her position with the school district.
The Homeless Network of Yakima County provides the survey taken by homeless families in the Lower Valley. It is taken annually in order to generate monies to the area to address and assist the homeless.
The survey was taken and care packages were handed out at the soup kitchen, located at the Sunnyside Community Center, today from 11 a.m. to 3 p.m.