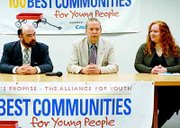 The Lower Yakima Valley was recognized today as one of the "100 best communities for young people".
Representatives from school districts and cities throughout the Lower Valley were on hand for the announcement this morning, held in the Denny Blaine board room in Sunnyside.
"There are so many reports about what is wrong with youth, but this shows the positive things that are going on," said Grandview School District Superintendent Kevin Chase.
Louise Erickson of the Northwest Community Action Center's Grandview office submitted an application nominating the Lower Valley to Virginia-based America's Promise.
Erickson, who previously submitted a successful top 100 application for Pierce County, said she wanted to nominate the Lower Valley because of the cooperative efforts she saw between the individual cities in serving more than 17,000 youth who reside in the region.
Hundreds of communities in all 50 states, the District of Columbia, Puerto Rico and the U.S. Virgin Islands took part in the competition.
The Lower Valley was one of just five communities in Washington state named to the top-100 list, and only one of two in Eastern Washington.
Lisa Fairbairn of Sunnyside's Promise said the Lower Valley was one of just 25 rural communities to be listed in the top 100.
"I think it's wonderful that for such small communities we're able to work together and put our differences aside," Fairbairn observed.
Sunnyside School District Superintendent Dr. Rick Cole said trust is the key factor in the cooperation between the 10 school districts in the Lower Valley. That cooperation led to the formation 15 years ago of the Mid Valley Providers Consortium that linked educators, services and community leaders together in serving youth.
The parnership has resulted in Lower Valley youth outreach such as after-school activities, the annual Midnight Live New Year's Eve social function for teens and linking parents and their children to services.
Sunnyside City Manager Bob Stockwell said the city's participation in Sunnyside's Promise and, in general, America's Promise is "one of the best things we do."
Stockwell also praised the morals that America's Promise, which was founded by Colin Powell, encourages in its five promises to provide youth with caring adults, safe places, a healthy start, learning marketable skills and opportunities to serve.
The Lower Valley, comprised of communities from Wapato to the Grandview/Mabton area, was selected to America's Promise top 100 by a panel of judges that included business leaders from around the nation.
Closer to home, Toppenish teenager Brandon Juan was one of three youths who wrote letters supporting the Lower Valley's nomination.
"I didn't realize how good it was here until I started writing the letter," he said. "I guess you need to take a step back sometimes and see the big picture."
Things may be good now, but they may get even better as the top-100 designation qualifies the Lower Valley community to apply for a $100,000 grant for youth programs through America's Promise. Erickson said she should learn sometime this spring whether or not the Lower Valley will be awarded a grant