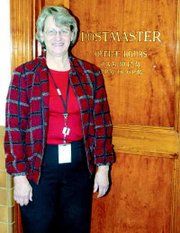 After 33 years with the United States Post Office and several different positions, Sunnyside Postmaster Karen Lemmon will retired this March.
Lemmon said today (Thursday) officially marks her 33rd anniversary with the post office. She started in Arcadia, Calif. because that was the only place her former husband would let her work.
"It was one of the better paying and secure jobs at the time," she recalled.
With three children, they wanted to make sure her job would contribute to the family income.
Lemmon moved to Sunnyside in 1977, and since she liked working for the post office in California, she sent out her resume to all the local post offices in the area. She was quickly picked up at the Sunnyside office, where she worked as clerk and sometimes a letter carrier.
"It was something you could do at the time," she explained.
Now days, a person must choose either a clerk's position or a that of a letter carrier.
In 1980, Billy Hargrove, the postmaster of the Sunnyside Post Office at the time, promoted Lemmon to supervisor, a position she would hold for eight years.
"I wanted to get into a postmaster position," she said. "When one came up in Mabton I went there."
There Lemmon learned the ropes of being a postmaster but wanted more responsibilities so she took the postmaster position in Wapato in 1992.
There she covered two towns and worked with retail and delivery.
In 1999, Lemmon took over for Hargrove when he moved to Yakima. She's been in Sunnyside since.
She is responsible for overseeing the entire facility, although she has a supervisor which is in charge of the letter carriers.
She said the biggest change she's seen in her 33 years with the post office is the automation.
"Everything used to be all manual and now it's more automated," she explained. "We used to have to sort every piece of mail but now we just sort flats."
The mail comes in to the post office already in carrier order. The machines can even read handwritten mail to make it that much easier.
She believes mail will be delivered in plastic bags within the next five years.
"It's being tried right now back east and so far it's been successful," Lemmon said.
So what will Lemmon do after March 2?
"Sleep until 7 a.m.," she joked.
She said she doesn't have any real big plans but does want to use her motorhome and travel around the United States.