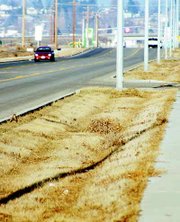 After years of focusing on drinking water and wastewater issues, the federal government now has set its sights on stormwater as a source of water pollution.
As a result, federal and state authorities have put all cities with a population greater than 10,000 people on notice that they need to account for stormwater that flows from streets and gutters.
Bob Stockwell is the Sunnyside city manager, and says the city is preparing for the mandate.
In anticipation of the stormwater requirements, Sunnyside formed a partnership about 18 months ago with Yakima County, the city of Yakima and the city of Union Gap to work together in tackling stormwater run-off.
Because of that teamwork, Sunnyside will receive a state permit to allow up to five years to address the stormwater issue.
Stockwell says there are some tasks that each entity in the partnership will have to address individually, such as ramping up street cleaning efforts.
But as a group, the four entities have already saved money by pulling together $70,000 in state grants to research stormwater issues.
Stockwell said one way to address stormwater run-off in Sunnyside is by creating swales, or downward sloped strips of grass that slow the flow of water as it drains off the roadway. The grass not only reduces the amount of stormwater, but also helps sift out pollutants such as oil that actually help the grass grow.
As an example, he pointed to work the Port of Sunnyside did on Midvale Road near its wastewater treatment center. There, the port has placed swales between the sidewalk and street to help catch run-off.
Similar landscaping, he said, will likely be placed on the outskirts of Sunnyside to better catch stormwater.
Sunnyside codes will also likely be changed to require more consistent clean-up of road and/or utility projects around the city.
But even with landscaping and tighter codes, the city will still face construction costs to build pipelines that will help funnel water to the vegetation.
Total costs for such a project-as well as increases Sunnyside residents will see on their monthly utility bills-is unknown at this point, Stockwell said.
He noted that some initial figures show that utility bills for a typical home on an average lot in the city would see utility bill increases of between $3 to $15 per month.
"It shouldn't be more than $15, but it will likely be more than $3," he said.
Whatever the figure will be, Stockwell said the fee will be on a sliding scale, with more charged for residences and businesses that have more impermeable surfaces like buildings, sidewalks, driveways or parking lots.
Stockwell said residents will likely start seeing a stormwater fee gradually implemented in about a year-and-a-half.
"It's not an optional thing," he said of implementing a stormwater plan. "If we don't, then the state could prevent new construction in the city."
Sunnyside's next step in addressing stormwater needs will be a presentation before the city council on Feb. 12.