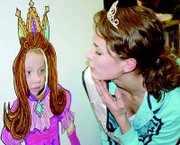 GRANDVIEW - Planning for the annual Grandview Chamber Auction is currently in full swing.
The silent auction bidding has begun already. Up for auction currently is the "Friendship Table," according to Beth Bourgeois, executive director for the Grandview Chamber of Commerce. Bidding was at $325 as of Thursday, Jan. 25.
The "Friendship Table" is special because it is up front at the auction, scheduled for March 16. The top bid for the "Friendship Table" will receive "the royal treatment," said Bourgeois. Those seated at the table will eat on special china, drink from crystal, partake of a special dessert, have their own waiter, receive massages and more. Bidding for the table ends March 1.
The purpose of the auction is to help the chamber promote events and activities "...for the general welfare and prosperity of Grandview," Bourgeois said.
She added, "Five percent of all proceeds will go toward the support of the Gibby Orosco fund at Children's Hospital in Seattle." She explained, "Gibby died at age six of cancer."
In addition to the silent auction, the chamber will host the live auction at the Grandview Armory, located at 800 Wallace Way in Grandview on March 16 at 6 p.m.
Items up for auction include a stay at Inn at Cannon Beach, Ore. with breakfast for two, a Wildhorse Casino package, three new vinyl windows from HIP Glass, desserts and a "Wine Frenzy" which contains four to six cases of wine from Coyote Canyon Winery in Prosser.
The auction benefits events in Grandview such as Junior Miss, Spring Fling and the Haunted House.
During the auction, a special performance of "The Sound of Music" will be given by the Lower Valley Theater Company.
The chamber's goal this year is to raise $30,000. They have had over $19,000 worth of items donated for the auction, thus far.
Local residents may purchase tickets for the auction at 710 Ink, located at 522 South Seventh Street or at the Daily Sun News, located at 600 South Sixth Street in Sunnyside. Ticket prices are $25 per person or a table for eight at $175.
For more information or to place your bid in the silent auction, call the Grandview Chamber of Commerce at 882-2100, or email bids to grancofc@grandviewchamber.com