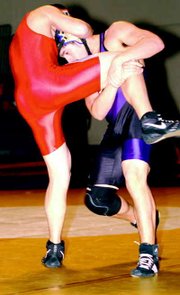 MABTON - Two matches away from finishing undefeated in the SCAC East league, the Mabton Vikings fell to Granger 38-32 at home last night.
The match started with the 171-lb. bout. Mabton's Adrian Magana beat Victor Camacho 10-3.
"That was one match we were hoping to get a pin," Mabton Coach John Kilian said.
The win gave the Vikings a three-point lead. Damien Marquez (189 lbs.) followed by pinning Granger's Josh Gamez in 3:04 to elevate the Vikings to 9-0.
At 215 lbs., Mabton's Robert Marquez received a forfeit for a 15-0 Mabton lead.
Eli Perez extended the lead even further when he pinned Granger's Miguel Garcia (285 lbs.) in 1:54 to give a Mabton a 21-point cushion.
Granger started working itself back into the match when Joel Salcedo pinned Mabton's Carlos Mendez (103 lbs.) in 1:34.
Mabton's Eric Meza (112 lbs.) lost to Wally Almaguer but kept in under 15 points, losing 13-4.
"Eric did his job and kept it close," Kilian said.
The win gave Granger four team points instead of the five or six Almaguer could have gotten.
Next, Luis Aviles (119 lbs.) lost to Granger's Sammy Salcedo 18-4.
The Vikings continued to give up points when Andy Rivera (125 lbs.) was pinned by Josh Russell in 3:49.
At 130-lbs., Mabton's Tony Vargas pinned Jesus Lemus in 3:08 to put a stop to Granger's momentum.
"It was a good win," Kilian said. "We needed a pin to get back on track after three straight losses."
The Vikings then received a technical fall when Andy Torres beat Granger's Jaime Martinez 16-1.
At 140 lbs., Mabton had to forfeit to Granger and then Vicente Tovar (145 lbs.) lost to Granger's Robert Funnier in a close one, 4-0.
A pin over Mabton's Orlando Flores by Daniel Lopez and a 4-0 loss by Angleo Salinas to Granger's Humberto Morales ended any hopes for Mabton.
"It penciled out to what we thought it would," Kilian said. "The kids wrestled hard and it was fun."
Mabton will travel to Cle Elum Saturday, Jan. 27, for a 10 a.m. match. If the Vikings win they will join a three-way tie for the league title.