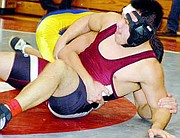 GRANDVIEW - All but three of the 75 JV wrestlers who competed at Grandview last Saturday will advance to the District competition set for this coming weekend in Othello.
Grandview Coach Jeff Sevigny attributed that to the fact that several CWAC wrestling teams are down in numbers this year. "No school had a full JV lineup," he said.
The JV tourney sends the top six athletes in each weight class to fill out the District field. With fewer numbers this year, almost every JV participant was guaranteed a District berth.
No team scores were presented Saturday, but competitors did receive a District seeding based on how they fared at the JV tourney.
All eight of Grandview's JV wrestlers advanced.
Grandview's Isaac Alaniz was the top JV seed at 152 lbs. with a 2-0 record
Earning a No. 2 JV seed for Grandview was Ray Cantu at 171 lbs., who went 2-1 on the day.
At 119 lbs., Spencer Blanshan of Grandview earned third-place honors with a 3-1 record. Teammate Abel Meraz did the same at 160 lbs.
Earning fourth-place JV finishes for Grandview were Viano Perez (125), Luis Valdez (135), Michael Hendrickson (215) and Eddie Acosta (285). All four wrestlers finished the day with a 2-2 record.
With Districts coming up this week, Sevigny said the goal now is "trying to get everybody healed up and refocused for the postseason."
Whether they be a highly seeded varsity player, or a JV qualifier, Sevigny said every wrestler will be important to Grandview's District hopes.
"Two years ago we won a District title by a half-point," Sevigny recalled. "Every guy that goes in scores points and it could come down to one of these JV guys."