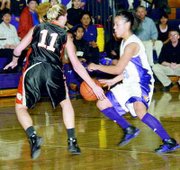 MABTON - Those in the know figured the move up this season from the class 'B' ranks to the tough class 'A' SCAC West Conference would pose a major challenge for the Mabton High School girls basketball team.
The Lady Vikings, however, are showing Valley prep hoop fans they're up to that challenge, as they're currently in a heated race for the league's fifth and final berth into the District tournament.
Mabton scared the daylights out of always tough Zillah last Friday before succumbing by a 63-44 score, which clearly wasn't indicative of how close the game was. Saturday, the Lady Vikings hosted their second straight league game, only to come out on the short end of a 51-46 score against Cle Elum.
The two losses were a bitter pill for the Lady Vikes (4-6, 8-9) to swallow, but according to Mabton Coach Mike Roettger, all is not lost.
"The No. 5 seed into the playoffs is there for us," Roettger said. "All we have to do is take care of business."
That means giving either Naches or Granger a good game this coming weekend. Roettger's Lady Vikes dropped a close 57-51 decision to Naches back on Jan. 6, and hung tough with Granger two weeks ago before settling for a 10-point loss. Mabton will close out the regular season the following week against Highland and Goldendale, two teams the Lady Vikes have already defeated in league play.
"We clearly have a shot at getting into the postseason," said Roettger. "If our kids play their tails off the way they did last Friday against Zillah, we can compete against anybody."