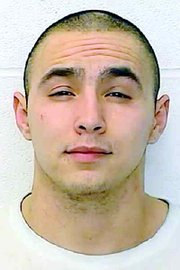 TOPPENISH - Adrian Ozuna, 20, who is the primary suspect in a drive-by shooting which occurred Jan. 19 in the 1300 block of Jackson Avenue in Sunnyside, has been arrested.
Ozuna was arrested in the 200 block of North Chestnut Avenue in Toppenish last Thursday, Jan. 25, at approximately 2 p.m.
A tip to Toppenish Sergeant Diaz prompted the Toppenish Police Department to investigate.
Upon arriving at the home, Toppenish police surrounded it. Ozuna attempted an escape out the rear of the home, according to Detective Jim Ortiz of the Sunnyside Police Department.
Ortiz said Ozuna realized he would not be able to escape and surrendered to the Toppenish police officers without incident.
The Toppenish Police Department transported Ozuna to the Sunnyside Police Department.
Ortiz complimented the Toppenish Police Department's handling of the incident, "Toppenish did an awesome job."