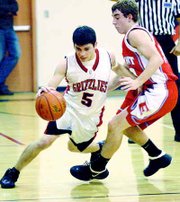 The Sunnyside boys basketball team used a 16-8 third quarter run to break a halftime stalemate and defeat visiting Eastmont 59-54 last Friday in Columbia Basin League play.
Sunnyside's Nate Cornelius scored eight of his game-high 18 points in the first quarter to keep the Grizzlies within reach after one quarter, trailing 14-11.
In the second stanza, Cornelius and teammate Gibby Briones combined for 12 points as Sunnyside knotted the score 25-25 at the half.
"Thank goodness for Nathan Cornelius in that first half," Coach Steve Urrutia said of Cornelius, who scored 15 of Sunnyside's 25 first half points. "He got some good looks early and he took advantage."
Urrutia added, "We were lucky to be tied (at the half), we must have gone five minutes without scoring in the first half."
That set the stage for Sunnyside's third-quarter run, fueled by eight points from Jessie Montelongo and six by James Baysinger.
The surge gave the Grizzlies a 41-33 lead heading into the fourth quarter.
"We ran a half-court pressure defense in the third quarter that really seemed to give them (Eastmont) some problems," Urrutia noted. "We made some adjustments on defense that ended up freeing other people to score."
Sunnyside lost to the Wildcats 71-54 back in December and had to hold on in the fourth quarter Friday to earn a season split. Eastmont got as close as two points in the fourth quarter, but the Grizzlies made their lead hold up by connecting on 10-of-17 free throw attempts in the quarter.
"We shot just well enough to win," Urrutia observed.
Montelongo scored 14 points, collected five rebounds and four steals to help the Sunnyside cause.
Baysinger tallied seven points for Sunnyside, to go with four assists, five rebounds and six steals. Teammate Ryan Engel also gathered in five caroms and another teammate, Justin Bos, swiped a game-high eight steals.
Sunnyside, which hosts Kennewick tomorrow (Jan. 30), improved to 3-4 in league play and 4-11 overall with the win.
"It keeps us in the hunt for a playoff spot," Urrutia said of the win. "The way things (the CBL playoff race) are shaping up it's going to go down to the last game of the season."