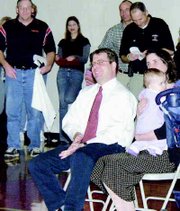 A slide show/video in tribute to John Hulick was presented last Friday by the Sunnyside High School students and staff members.
Hulick is being deployed to Kuwait this coming March as a Chief Petty Officer with the Navy.
"Come Home Soon" by SheDaisy played as background music to the slide show/video tribute. Photos of Hulick with his students were flashed across the screen. One photo, apparently of Hulick teasing a student with a ruler, was slowly zoomed out to depict a pose with the ruler above the student's head.
Laughter and cheers erupted in the gym...an apparent testament to the humor Hulick injects when he is teaching.
After the tribute, Hulick stood to thank the students. "You can mark today on your calendar because you guys just knocked me speechless," he said to those in attendance.
He told the audience of students and faculty he was asked why he would want to work in Sunnyside after finishing his student teaching. "They just don't know you guys," he assured them.
In conclusion to Hulick's short speech, he said, "When you are thinking of me, remember there are people who will be in a lot worse of a place than I'm gonna be."
Jennie McGhan/Daily Sun News
Sunnyside High School history teacher John Hulick sits with his wife and 1-year old daughter as students and fellow staff members honor him during a MORP assembly this past Friday, Jan. 26.