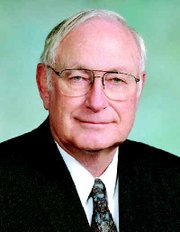 OLYMPIA - State Sen. Jim Honeyford (R-Sunnyside) this week was appointed to serve a two-year term on the legislative ethics board. Honeyford will be one of four legislators to serve on the nine-person board.
"This is a responsibility I take seriously," Honeyford said. "I have always believed that government and its employees have an obligation to serve with the highest ethical standards, and this board oversees that."
The board is charged with educating and advising the legislative branch about the state's "Ethics in Public Service Act." In addition to the four legislators, the board also consists of five citizen members who are appointed by the governor.
The board holds monthly meetings to investigate complaints and issue advisory opinions.
Honeyford was elected to the House of Representatives in 1994 and was elected to the Senate in 1998.