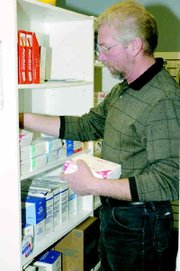 After eight years serving customers at its South First Street store next to Bi-Mart, Valley Medical Supply has moved to a new location at 508 Yakima Valley Highway in Sunnyside.
Doug Barnes, president of Barnes Brothers, Inc., the corporation that owns Valley Medical Supply, said the new store has more square footage and is in a much better location.
"We had outgrown our office and it was difficult for folks to find us," he explained.
The building in which the firm has moved was previously occupied by Sunnyside Motorcycle Company, and has 10,000 square feet of space. So much so Barnes said he is looking to rent out 2,000 square feet.
Barnes got into the medical supply business back in 1999 when he heard Rite Aid was getting ready to stop selling and renting medical supplies.
With the help of his friend Aaron Galey, Barnes and his wife Tammy bought everything Rite Aid had and opened up shop on South First Street. Cindy Grove, the billing manager at Valley Medical Supply, came to work with Barnes from Rite Aid and has been with the company ever since. There are now nine employees working for Valley Medical Supply, including Barnes.
These nine workers spent the last seven weeks renovating the building and moved into the new location last Thursday, Jan. 25.
"We did most of the wiring, plumbing and construction ourselves," Barnes said.
Many different types of medical supplies are offered here. Barnes has supplies for mobility needs, such as crutches or wheelchairs; power mobility, powered wheelchairs; respiratory needs; wound care; incontinence products, for when toileting is a problem; and durable medical equipment, such as sick room supplies like beds.
Barnes said when people leave the hospital they might need supplies such as wheelchairs, walkers, hospital beds or other supplies. Doctors will write the patient a prescription for the supplies, and Valley Medical Supply will deliver and pick up equipment they sell or rent.
"We want to handle the needs of our Lower Valley patients and our community," Barnes added.
He does this by offering a complete line of supplies and equipment. One type of machine he rents out is called an oxygen concentrator. This machine plugs into the wall and concentrates the oxygen in a room and delivers it to the patient's nose through a tube. Barnes said the oxygen is 95 percent pure or better, almost the same as having a tank of oxygen.
Another piece of equipment kept on hand at the Sunnyside store is called a CPM machine, or Constant Passive Motion machine. It is used by people who've had knee replacement surgery and can be used as soon as the patient wakes up in the recovery room.
The machine flexes and extends the knee to keep it from stiffening.
Barnes also said his service manager, Chris Jepson, can do a lot of the repair work on medical equipment, himself. With the help of a lathe, a milling machine and a welder, Barnes said they can do a lot of repair work in house.
"We think with the changes we're making we'll have the most complete and qualified service and maintenance facility for medical equipment in the state," he added. "We're pretty proud of that."