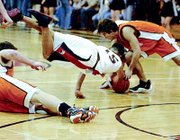 The Sunnyside High School boys basketball team kept things close, but fell just short in a 47-45 home loss to Kennewick last night.
"It was a tight game all the way down to the end," said Sunnyside Coach Steve Urrutia.
The Grizzlies were down by as much as eight points in the third quarter before pulling to within 34-33 heading into the fourth stanza.
In the final period Sunnyside was able to tie the game and nearly sent the game into overtime. With nine seconds left in regulation, a Kennewick player was fouled but missed the front end of a one-and-one attempt to keep the game tied.
But the guests found a way to win as Laxton Brown came away with an offensive rebound and was fouled by a Sunnyside player. Brown then canned the winning points by hitting two free throws.
Sunnyside still had time for a final-second attempt, but came up short.
Urrutia credited Kennewick's defense as a difference-maker in the close loss. "They did a really good job on our guards and contesting every three (point shot) we attempted," he said.
Urrutia also praised his team's pluck in rallying from that eight-point deficit. "When they (Kennewick) were up by eight in the middle of the third quarter we thought the wheels were going to fall off," he said. "But the kids found a way to battle back."
Sunnyside's balanced attack was led by Jessie Montelongo and James Baysinger, who each tallied nine points.
"We've played a lot of these games tough and walk away losing by one or two," said Urrutia. "You feel good that you competed but you still want to win."
Sunnyside (3-5, 4-12) hits the road this Thursday looking for a win when they travel to Hanford.