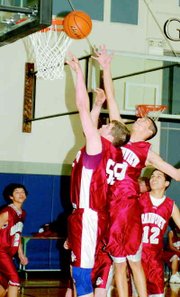 GRANDVIEW - The Bickleton varsity boys basketball team used its game last night with the Grandview Greyhounds' 'C' squad as a tune-up before resuming its league schedule against Troutlake/Glenwood this Saturday.
The Pirates used a strong second quarter to pull away from the feisty Greyhounds and posted a 55-49 victory, bringing their overall record to 5-10. The Pirates are 2-8 in league play.
The score was knotted at 10 points after one quarter.
"Grandview shot very well from the perimeter," Bickleton Coach Ben McBride said. "We came out very sluggish. We were doing OK but I wanted more energy."
His team answered his call and in the second quarter the Pirates outscored the Greyhounds 11-7 and that four-point spread proved to be the difference in the game.
"We played better as the game went on," McBride added.
He said both teams stepped up their play in the second half.
"I thought we did a better job of running our offense in the second half," McBride said.
Bickleton and Grandview went point for point in the third and fourth quarters with the Pirates gaining a 13-12 edge in the third and a 21-20 advantage in the fourth.
"The first four minutes of the fourth quarter we played well and extended our lead," McBride said. "I thought that was the turning point of the game."
Bickleton's defense stepped it up as well despite giving up six points in the last seconds.
"We were up by 12 points with 20 seconds left," McBride said. "Grandview made good on some three-point plays at the end."
McBride said Grandview has very good outside shooters and the Greyhounds hit six three-pointers during the game.
Bickleton's Eric Hess led all scorers with 18 points and grabbed 15 rebounds on the night. He was followed by Tyler Jensen with 16 points and three steals, and Cody Loomis who had 16 points, seven rebounds and three assists. Tyler Collins added five points and snagged nine rebounds.
Adam Layva and Josh Bertch each had 11 points for the Greyhounds.
The Pirates have one more tune-up before the big Troutlake/Glenwood game. Bickleton will travel to Prosser to take on the Mustangs' 'C' squad Thursday, Feb. 1, at 5:30 p.m.