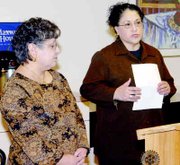 Numbers compiled from July 2006 to November 2006 show there were 56 new cases of sexual assault in the Lower Valley, according to figures released by the Lower Valley Crisis and Support Services (LVCSS) in Sunnyside.
Sara Herrera, a therapist at LVCSS, said she and other counselors followed up on 647 cases of sexual assault in that time frame as well. These assaults were committed before July 2006.
Herrera and Estella Zungia-Patterson, a counselor at LVCSS, spoke to the Sunnyside Daybreak Rotary Club Wednesday about sexual assault and domestic violence in the Lower Valley.
Sexual assault has many definitions. It is when someone forces another person to have sex or when someone doesn't stop when they have been told to. Sexual assault can also occur if a person has sex when they are incapacitated by drugs or alcohol.
"One in three women will be sexually assaulted by the age of 18," Zuniga-Patterson told the Rotarians.
This is a national statistic and Zuniga-Patterson and Herrera said this number is understated because sexual assault is the most under reported crime, especially among males.
The staff at LVCSS never forces an adult to report an assault but for children the state mandates all sexual crimes be reported.
Cooperation with the police allows staff at LVCSS to be informed when sexual assault or domestic violence occurs. Counselors offer their services immediately. Staff attempts to make contact with sexual assault victims as often as possible. Their goal, they say, is to help stabilize the situation.
"Children don't open up as quickly as adults in the beginning," Herrera said. "Trust is a big issue."
Both women said they teach prevention by going to schools and speaking or attending service club meetings to the get the word out.
"Where ever we're invited we go," Zuniga-Patterson said.
There are two shelters in the area, one in Yakima and the other being in Richland. The Wiley House in Sunnyside, where LVCSS is located, is more of a safe house where victims can stay for a while before going on to a shelter or home.
All services at LVCSS are provided at no cost and funding is provided by community, federal and state grants, and public and private donations.