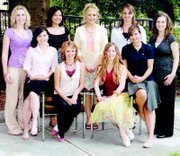 ELLENSBURG - A Washington university town is in the throes of student growth, creating problems for local housing and hospital services.
No, it's not Ellensburg, site of CWU, rather it was a fictional town called O'Connor facing Sunnyside High School senior Julie Wedam during the Girls State convention held June 10-16 in Ellensburg.
More than 300 high school girls were selected from their home towns around Washington state to attend the annual Girls State convention, which provides hands-on examples of local and state government activities.
Cassie Herndon represented Sunnyside and her alternate, Wedam, was tabbed to represent Grandview, which did not have a girl in attendance at the convention.
While Wedam was helping her town of O'Connor deal with student population growth-the 300 or so girls in attendance were divided into fictional "cities" named after famous women-Herndon won election from her fictional city of Gregoire to eventually become the State Treasurer.
"My best subject in school is math and I've always been pretty good about managing my money," Herndon said of her decision to seek the treasury position.
Herndon said campaigning for the post required her to speak in front of all the girls assembled for the conference.
Part of the learning experience from Girls State, Herndon recalled, was meeting other girls from around the state so committed to community involvement.
Herndon, the daughter of Rick and Deon Herndon of Sunnyside, is a member of the Miss Sunnyside court, said she has had past experience with speaking and appearing in public, but discussion and debate at the convention was a whole new learning experience.
"It just increased that," she said of her public speaking learning curve. Girls State, Herndon added, taught her to "argue nicely." She noted, "We learned to try to understand an argument from another person's point of view."
Wedam also experienced political discussion and campaigning while at Girls State.
In addition to helping her community deal with a growing college campus, Wedam was also elected to office in the House of Representatives, serving on the rules committee.
The daughter of Mike and Sue Wedam of Sunnyside, she said she enjoyed her experience in political office. "I learned a lot about the process, how the legislative branch is run," Wedam said. "I really enjoyed being able to help make the decisions and be involved in the process."
Recently named the Yakima Valley's Dairy Ambassador, Wedam said the Girls State experience offered her an opportunity to lead. It's an experience she plans to draw on as she prepares for her senior year at Sunnyside High. "I'm not an ASB officer, but I got some leadership experience and I'll probably use that," she said.
Both Herndon and Wedam came away from the Girls State experience with a better appreciation for the U.S.
"I understand our government's system much better," Herndon observed. Wedam added, "It gave me a deeper sense of patriotism and appreciation for the meaning of our flag."