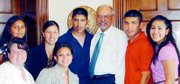 WASHINGTON D.C. - Six migrant students from Sunnyside joined students from California, Pennsylvania, Florida and Arizona June 17-22 in Washington D.C. as part of the project Close Up.
This week long learning program encourages students to think critically, develop leadership skills and accept civic responsibility.
Sergio Abundiz, Melinda Amaro, Selena Barreras, Jessica Gonzalez, Ali Velasco and Naomy Velasco studied the recent immigration bill that was struck down in the Senate.
"They received hands-on information on the bill and practiced writing their own bills," Jamie Fleming, the students chaperone, said.
She said the students toured all of the monuments and museums while they were there.
"It was a busy week," she added.
The students also got to get face-to-face with members of Congress and their staffs, visiting with leading policy experts and influential lobbyists during question and answer sessions and debates.
"The kids realized they do have a voice," Fleming said. "They know they have a responsibility to act in the community. They also learned the government is not perfect but flawed on purpose to keep it in a checks and balance system."