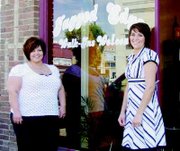 GRANDVIEW - Two well-known Lower Valley hair stylists, Sherry Pina and Carolina Martinez, feel it is important to take into account a customer's facial features, personality and lifestyle before giving tresses a new look.
"We are unique because what might look good in a book doesn't always work for the client," said Martinez.
The two women have worked in the towns to the east and west of Grandview. Pina was a hair stylist in Sunnyside for several years, while Martinez served clients in Prosser.
"We both worked at Mystique for a while to establish a clientele base in Grandview," said Pina.
"We always wanted a salon of our own...it was always our goal," she said, explaining the pair wanted to provide a different type of salon than the other options in the community.
"The opening in this building made the timing perfect," said Martinez of the pair's decision to open Jagged Edge near the intersection of Division Street and West Second Street in Grandview.
Another pleasantry offered by Jagged Edge's location, according to the women, is the ability to expand the business. "We currently provide hair styling, coloring, cutting, texturing and other hair-related services. But, we are exploring the option of eventually offering a gift shop, tanning or massage therapy in the future," stated Pina.
The ladies provide time to consult with a client to establish the hair style that would best fit the individual. "We like fitting the style to the personality," said Pina.
The ladies stated that the salon had to be revamped in a short period of time. "We spent a lot of nights tearing down wallpaper, painting, replacing flooring and plumbing," said Martinez.
"We were fortunate to have a lot of family support," added Pina.
"But our kids hate the salon now," laughed Martinez.
The renovations had to take place quickly because, according to both ladies, "Our customers were eager for us to open."
The salon features four stations. Currently, Pina and Martinez are the only two working in the salon, but they hope to find someone willing to use the other two stations soon. "We are getting too busy with our regular customers to handle all the walk-in traffic," stated Pina.
The women agree that the location is serving them well. "We like being a part of the downtown community. It feels like a large extended family," Pina noted.
"Yes, we enjoy the feeling of being in touch with the community," stated Martinez.
Jagged Edge also has added an email newsletter to its services. "We will email specials, upcoming events and appointment reminders," said Pina.
The duo hopes to hold a grand opening and purse party on July 31. "It is a potential date, we haven't confirmed it," stated Pina, who explained that a purse party is an opportunity for customers to meet with vendors selling name brand purses and enjoy refreshments and camaraderie.
Jennie McGhan/Daily Sun News
Jagged Edge in Grandview opened on Saturday, June 2. The owners are Sherry Pina (left) and Carolina Martinez (right). The ladies believe they are offering something different when it comes to hair salon services.