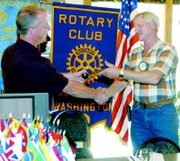 Joking with other Sunnyside Noon Rotary Club members, incoming president Jim Kassebaum reluctantly said he would take the reins of the club, again.
Kassebaum was named president of the Noon Rotary on Monday and will serve as the club's president effective July 1, 2007 to June 30, 2008.
Kassebaum relieves Greg Visser, who served as the Sunnyside Noon Rotary Club president this past year and for the 2003-04 and 2004-05 terms.
For his service, club members presented Visser with a clock bearing the Rotary colors. He couldn't pick a certain event he enjoyed the most during his last term as president but said he enjoyed working with the club.
"I thought I'd never do this again," Kassebaum told the Rotarians.
This is Kassebaum's second stint as president. He served during the 1995-96 year and has been a member of Rotary for 26 years.
Kassebaum, a mint and asparagus farmer in Sunnyside, said he probably wouldn't do anything drastically different during his term.
"We're in a comfort zone where we do some pretty good stuff," he noted.
He said Noon Rotary will continue to support the swim team in Sunnyside. He also said they would continue to support and work with two $1,000 scholarships Rotary gives out to high school students. The club, with help from the Sunnyside Daybreak Rotary Club, will also continue to support the student exchange program.
Kassebaum handed in his check to pay for his dues for the year and encouraged other members to get their dues in early as well, noting this money is what funds the club.
He also challenged his fellow Rotarians to donate $50 to the Rotary Foundation. He said the Noon Rotary Club would match each donation of $50. He told the club Rotary International encourages its members to donate at least $100 a year to its foundation.