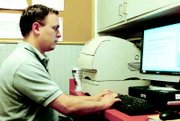 Nate Payne has a simple plan when it comes to managing a grocery store.
"I believe in a clean, well stocked store that delivers superior customer service," Payne said. "The most important thing is to make sure the employees and customers are happy. They kind of go hand and hand."
Payne become the store manager of the Sunnyside Safeway March 17 and has since bought a house in Sunnyside and gradually settled in to country living. He said he felt it was important to become a member of the community.
And it's a community he likes very much so far.
"The vineyards are just beautiful," Payne said. "The people are uncharacteristically so nice, especially with what I've had to deal with on the west side with all the hustle and bustle."
As store manager, it is Payne's responsibility to manage the entire store and be a resource to everyone so they can manage effectively. It isn't uncommon to see him talking with customers in the store.
"This town has a lot of character with some very diverse customers," he said. "I love talking to them."
Payne has been an employee of Safeway since 1990, when he started working as a courtesy clerk in the Lake Stevens store when he was 15-years-old.
"Initially, the paper route wasn't cutting it," he explained. "I wanted to make more money and give myself a different opportunity. The store was also very local to where my house was."
He bagged groceries for customers, helped them out to their cars, cleaned up messes and swept floors. He did this for almost two years before he was promoted to helper clerk, a position that stocks shelves.
He said he then bounced around to different positions within Safeway. He said he has been a produce clerk, deli clerk, worked on the night crew and eventually made it to checker.
"I really enjoyed it," Payne said. "It (his job) was flexible with high school and ultimately with college."
Still, at this point, Payne was unsure whether to make Safeway a career choice.
Then a person in charge position (PIC) became available at the Lake Stevens store and he applied.
"This was my first supervisory position at Safeway," he said.
It was then Payne realized he liked helping people and solving problems. He was left in charge of the store every once in a while and eventually moved to Arlington, where he became head PIC at the Safeway store there.
"That's where I learned the majority of my supervisory skills and this position helped me prepare to become an assistant manager. He spent three years as a PIC before moving to Lynden and becoming assistant store manager of the Safeway store there. He spent four years in Lynden and then went to a Safeway in Mt. Vernon and then back to Lake Stevens, where he originally started.
"It came full circle for me," Payne said of going back to the Lake Stevens Safeway. "It was a great feeling to come back to the store I was hired at as an assistant manager."
In September 2006 Payne took a store manager assessment course, a one-day process where he was observed and assessed on the many aspects of what's expected of a store manager. He passed his assessment and then waited for a Safeway store to advertise for a manager. Sunnyside needed one and Payne interviewed this past February with Safeway officials from the Yakima District.
Payne said his parents live in Moses Lake so it was a bonus to be able to move closer to them.
He likes his new town, the people and the area, but there is one thing he does miss.
"I like the sun here but I miss the rain," he said.