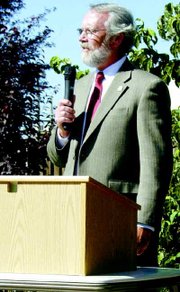 GRANDVIEW - Grandview held its 30th annual flag raising ceremony in tribute to the birth of the United States yesterday at Stokely Square.
The event featured guest speaker Dan Newhouse of Sunnyside, a state legislator who stated he grew up appreciating the Fourth of July as a child, but did not appreciate the true meaning of the holiday until he was older.
Addressing the crowd at the ceremony, he stated, "There are no guarantees in the opportunities given to us ... The gift of freedom and the opportunities we are given come with sacrifice."
Newhouse said many have given their lives to provide us with opportunities, and it is up to us to use them for positive change and solutions.
"Personal strength of individuals within the Grandview community can make positives happen," he told the crowd.
He added that the community, students and city can be better by working together.
Prior to Newhouse's speech, the audience participated in singing the national anthem, citing the pledge of allegiance and listened to patriotic music pieces.
A 21-gun salute was presented by the VFW and AMVETS post 6929 and taps was played by Chris Valler of Grandview.
The ceremony was also an occasion to recognize Sam Wise of Sunnyside and David Tobin of Grandview for achieving the rank of Eagle Scout.